Life Beneath the Superdome
I had always believed that people dying of cancer were doomed to lie awake every night with their eyelids paralyzed wide open, trembling in terror as they spent hour after sleepless dark hour staring straight up into the rosy pink asshole of Mortality.

But that's not actually the way it works.

When I wake at 3 am, the Hemorrhoids of Death are just about the last thing on my mind. No, my very first thought is always this: Jesus fuck, my goddamn scalp is cold. Where the hell is that fluffy warm terrycloth sleep turban I was wearing when I fell asleep? I rummage through the 8,000 pillows and quilts, searching vainly for the awol topper, trying not to wake up the damn dogs because then they'll want to go outside and all I want to do is cover my shivering pate so I can go back to sleep. Mortality and its frickin anal sphincter can wait until morning.



Wild sexbot jammies with garden gnomes and fuzzy warm hat

Anyway, speaking of goose bumpy scalps, today was the first time I wore my wig out in public. It's funny because I haven't been at all shy about going out stark raving bald. The minute I set down the clippers and discovered that I have an exceedingly elegant cranium, that was it: I leapt aboard the Bald Is Beautiful bandwagon and have been careening around with blazing evalgelical fervor ever since.



Nefertiti? Persis Khambatta? Uncle Fester? Or perhaps the bizarre love-child of all three.

But this whole wig business seems sort of phony and pretentious. Besides, it's a cheap little thing I got on eBay for about $7, and it feels all scratchy like I imagine a day-old roadkill would if it were perched precariously above my forehead. And I haven't really figured out what to do with various bodily protuberances, like my ears. Tuck in or poke out?

Nevertheless, it's cold today so I decided to stop being a sissy and bravely sidled out of the wigged closet. I slapped the fake bush on my bare head and adjusted it the best I could, hoping to hell I didn't have the bangs in the back or the sideburns in the front, although frankly it wasn't all that obvious to me which was what anyway, and off I headed to my friendly neighborhood Wal-Mart. I confess I went early, before church let out, or else I was bound to run into thousands of people I know.

What's that? How is it that I've come to know thousands of people who shop at the Wal-Mart on their way home from church every Sunday? Hell if I know; shit just happens, ok?

The excursion went well. Nobody stared or snickered or gasped or screamed, and the only person who even spoke to me was a polite young squirrel hunter who asked if he could cut in line because his dogs were out waiting in the truck.

What's that? How is it that I can tell just by looking at a guy's outfit what kind of animal he's been out killing? Oh shut up. Face the facts, Toto: we're not in Berkeley any more.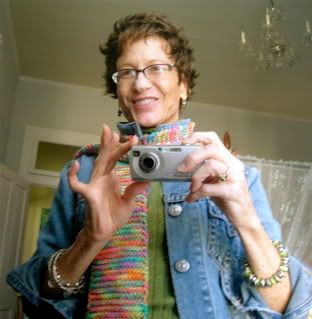 Self portrait with cheap wig