Recent Snapshots From the House of Tumors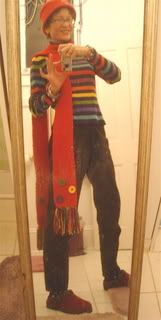 Tragic incident at the Crayola factory.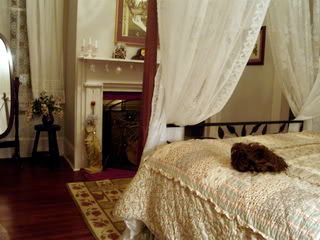 Dead rodent wig casually tossed on the bed after an outing: the dogs bark at it, then run away. (God help us all if it ever barks back. I have enough issues about the damn thing as it is.)
Plummeting neutrophils: Germ mask and obsessive Lysol in kitchen.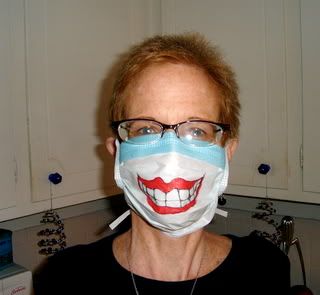 Germ mask up close. Hello, Howard Hughes!
Wacky velvet hat with purple rose.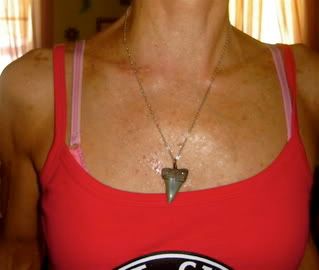 Large mediastinal tumor in September (before chemotherapy or port installation--no more spaghetti straps for me) causing sternum and rib cage to bulge out in front. Hell YES, it hurt! (The gross bulge is completely gone now, after two treatments.)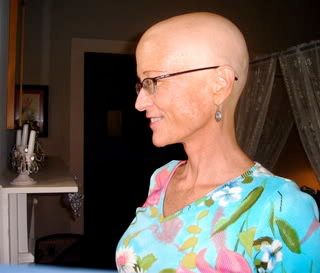 Egghead! I love it! But am I supposed to be polishing it, or buffing it, or exfoliating it or anything? My scalp grooming knowledge is embarrassingly minimal.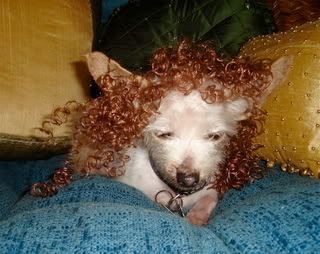 Solidarity!
More (somewhat reluctant) solidarity. But they don't know squat about scalp grooming either.