My Brilliant Idea
My chemo infusion usually takes around six hours, so I'll need to eat something while I'm there. The problem, of course, is that anything I eat during chemo is destined to be a repulsive food for me from that moment on. I now officially loathe cheese, bread, crackers, peanut butter, cranberry juice, and mint tea.

So here I am trying to pack a lunch, wondering what the hell I should eat tomorrow. What food do I not mind hating for the rest of my life?

Hmmmm, let's see. How about this: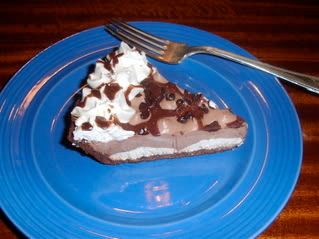 I'll enjoy a slice tonight, and take another slice to the hospital tomorrow. And forever after, I will be that hideously annoying person at every dinner party who says, "No rich dessert for me thanks, I'll just have an organic carrot."

Please, don't hate me.