Still Spinning Like A Cyclone
The other day in the comments here, Tia wrote: "While your other readers and I rejoice with the hopeful prognosis you may now have, I selfishly fear that my family and I will lose the bright moments that spinningtumor.blogspot has brought us should you wrap up this blog."

I want to assure Tia and anyone else who may be interested that, hell no, I'm not ready to wrap up this blog. The way I see it, the story here is just beginning. Cancer may have taken a punch in the nose, and it may be down for the count, but this was just the first round. There's still a pretty fair chance it could muster the oomph to get back on its feet and challenge me to round two. So as great as I feel right now, I don't consider myself ready to hang up my boxing gloves just yet.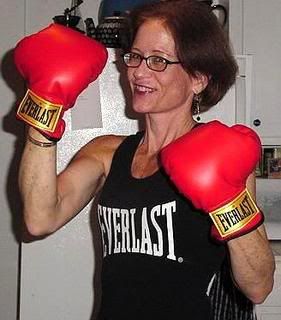 Me three years ago, innocently unaware that I was in training for the Big Fight.

But you know, fighting the cancer itself was only half the story. A lot of the ever thickening plot here at As The Tumor Turns will continue to hinge around cancer's collateral damage. I may have come through the chemotherapy with flying (if somewhat tattered and faded) colors, but meanwhile the rest of my life has crashed and burned. All my money has gone to pay for medical expenses. My relationship has gone down in flames of heartbreak and deceit. My house is going to be listed for sale this week so I can pay the remainder of my debts. And I'm left with pretty much nothing. Plus, I have no idea what I'm going to do to earn a living.

Starting over from scratch at age 53, baldheaded, broke, and alone. Hey! Look at me! I'm living everybody's worst nightmare.

So don't write the blog off just yet, Tia. I'm not quite finished with the regaling. As soon as my house is sold, I'm planning to pack up my little dogs and whatever else will fit into my trusty rusty 1999 Saturn beater, and head out into the world for some wonderful, terrifying, kick-ass adventures. And I intend to drag you all along, kicking and screaming, every step of the way. Stay tuned as the (hopefully metaphorical) tumor keeps on turning...



Still standing! (The fabulous shirt is from the Divine Brian. I plan to take him up on his challenge to have my picture taken in it in the midst of all kinds of daring feats of survival.)