Bomb Diggity
This is one of my favorite demotivational posters from the very special folks over at Despair, Inc.:




So here I still am, hovering around the margins but still alive: the highly aggressive stage IV cancer hasn't killed me, the lethally potent toxic chemotherapy hasn't killed me, the seven months of swinging wildly back and forth between emotional conflagration and brain deadening boredom haven't killed me. And now it looks as if the inevitable is going to be postponed yet a little while longer. In the exact words of the 12-year-old oncology resident du jour: "Everything on Thursday's CT scans is excellent."

Excellent. No tumors. All those hideous masses in my chest and abdomen and armpits and liver: not detectable. No Evident Disease. I'm dancing with NED! They sent me home without even setting up a follow-up appointment, saying they'll just send me a notice when it's time for my first Rituxan maintenance treatment in June. I'll do Rituxan every six months for two years, and if the scans remain clear, then I'm DONE. Finished! Healthy! WELL!!!!

Now, if you'll excuse me, I have to head on over to the gym and get back to my bench press.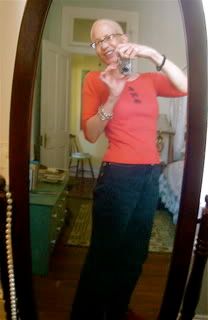 WOOOOOO fuckin HOOOO!!!! Dancing with NED