How I Stay Sane
Drawing and knitting have been bringing me a lot of peace and joy these days. I'm not interested in creating masterpieces, it's more about the process than the product for me. I love the way I can drift off into a soothing, centered, serene zone while I work. My brain empties itself of worries and fears, and soon involuntary fragments of familiar well-loved poetry float in to fill the emptiness.

I watch with a kind of detached fascination as a face magically appears on my blank drawing pad, or a long festive scarf emerges from my softly clacking needles. It doesn't even seem to be me who's producing these things, they seem to somehow be making themselves, not of my volition.

And yet I can see myself right there in the creations. I see such complex emotions in the faces, and I recognize the very things I've never been able to express with words. I see my own crazy foolhardy defiance in the scarves: Yes, they say, I know the brutally cold winter is on the way, and icy bitter winds will soon be battering my tiny uninsulated, unheated shack. But look! Here I am, facing it bravely armed with long festive colorful scarves! and lots of festive fringe! And perhaps a festive dose of denial.

But we do whatever it takes.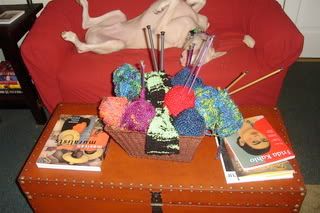 twice beautiful
is beauty
and what is good is doubly
good
when it is a case of two
woolen socks
in wintertime.
The windmills whirl the winter in
She winds his muffler tighter,
They sit in the kitchen.
Some tea with whiskey keeps away the doom...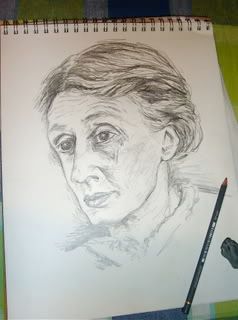 How many loved your moments of glad grace,
And loved your beauty with love false or true;
But one man loved the pilgrim soul in you,
And loved the sorrows of your changing face.