Perseverance Pays Off
So finally, miraculously, today my chart was actually there in the medical records department! My CT scan results, however, were NOT in the chart. Because duh, the chart itself has been gone every day for several weeks, so nobody could have possibly filed any incoming reports. The faceless bureaucrat du jour told me the papers I wanted were probably buried somewhere in a 12 foot tall stack of other papers waiting to be filed. In other words, totally hopelessly inaccessible.

But did I despair? Did I give up? Did I light my hair on fire, and curl up beneath the bureaucrat's swivel chair clutching an institutional size box of Ding Dongs, a 40-oz. bottle of St. Ides, and the Complete Patsy Cline box set?


Why yes, as a matter of fact, I did. Wouldn't you have?

Fortunately, in a frantic effort to get me out from under her feet before I set her hem on fire, the poor beleaugered faceless bureaucrat was forced to delve around in her computer for my reports and print them out for me. Which, bless her heart forever and ever and ever, she did without further ado. Now why the hell couldn't somebody have just done that last week? Sheesh.

Anyway, this is the report she handed me:

Impatient Name: Lymphopo Squeaky Wheel
Age: 53 Years
Gender: Irrelevant social construct
Test Type: Chest/Thorax w/contrast
Performed Date: August 27, 2007

No evidence of pulmonary parenchymal mass or infiltrate. No pleural thickening or effusion. No evidence of abnormal soft tissue mass or enlarged lymph nodes within the mediastinum or either hilum. Previosuly noted anterior mediastinal mass no longer evident.

Impression: Negative CT thorax. Anterior mediastinal mass noted on prior exam no longer evident.

Woooo fuckin hooo! Clean as a whistle! As were the scans of my head, neck, abdomen, and pelvis. Look out, world, I'm ready to live!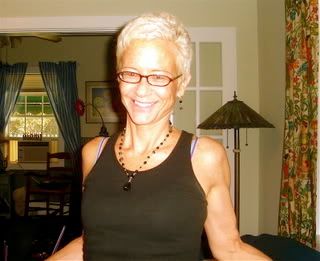 This is what a happy, healthy, grateful, and relieved person who's seriously ready to get on with Life looks like.