I Hurl Like A Girl
"This is not a novel to be tossed aside lightly. It should be thrown with great force." -Dorothy Parker


You're always hearing people blather on about how cancer made them a better person. Not me. I can't say that cancer has made me a better person, but I sure as hell can say it's made me an angry, bitter person. And, somewhat unexpectedly, it has also taught me how to pitch a blazing two-hundred-mile-an-hour fastball. Or rather fast book. Specifically, those ubiquitous "inspirational" cancer books.

These two gifts from cancer, the bitterness and the pitching, are not unrelated. And raise your hand if you're shocked to hear: it's all about the money.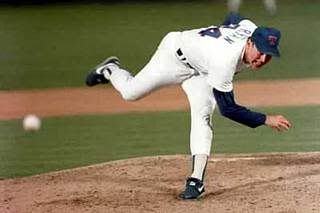 George Scott once said, "Nobody throws harder than Nolan Ryan. Not even God." But ol' Boomer had never seen me take on a pile of "inspirational" cancer books.

The first book I hurled so hard it broke the sound barrier was Lance Armstrong's famous cancer story, It's Not About the Bike: My Journey Back to Life. Go read the 700 reviews on Amazon: I don't think there's one that doesn't use the word "inspirational." The message being, See? If Lance Armstrong can beat advanced cancer and go on to win the Tour de France, YOU CAN TOO!

Feh. I admire what Mr. Armstrong has done and all, but how in the hell am I, a middle-aged bankrupt uninsured nobody, even remotely like this superhumanly fit young billionaire celebrity? As soon as he was diagnosed, Armstrong held a press conference announcing the bad news, and within hours dozens of the planet's leading oncologists were clambering aboard his bandwagon. Twenty-four hours later his crack team of brilliant cancer luminaries started his treatment.

My diagnosis at the underfunded overcrowded public charity Hospital for the Indigent Damned was delivered to me by a 12-year-old rotating resident whom I never saw before or since. And even though I have an extremely aggressive stage-IV cancer, it was another six weeks before my treatment began.

According to a new study being presented this week at the American Society of Hematology convention, "Patients from deprived areas had a higher relative risk to die compared to patients from affluent areas...The existing deprivation gap in relative survival for both men and women confirms that cancer survival depends on socio-economic background and is inequitable." Survival: it's all about the money. I bet fame doesn't hurt either.

The second book I tossed aside at Mach 2 was Breast Cancer Husband: How to Help Your Wife (and Yourself) during Diagnosis, Treatment and Beyond by Marc Silver. The underlying assumption that runs throughout this book is that the readers are overwhelmingly affluent and insured.

In a chapter called "The Price of Looking Pretty," Silver tells the BC husbands: "If you've got the cash, don't scrimp. A wig fashioned from luxuriant human hair can run well over $1,000. For that price, your wife gets hair that shines and swings." Hmmm, let's see, shiny swingy hair, or paying the utility bills this winter? Tough decision.

In a chapter called "Hey, Big Spender," Silver writes: "The New Normal isn't just about coping with the specter of cancer as well as lingering side effects. It's also about enjoying every day. For many couples this leads to what women jokingly call 'the tumor upgrade.' In other words, retail therapy." New cars! Exotic vacations! Remodeled kitchens! And, he adds, "Guys deserve a treat too. Hey, you were a good caregiver. Go ahead, knock yourself out!" Followed by stories about men who treated themselves to sports cars, drum sets, and new SCUBA diving gear as rewards for being such good breast cancer husbands. I nearly broke a window pitching that one.

Even the books that I liked were chock full of privilege and supersonic hurl moments. In young handsome hotshot actor Evan Handler's Time On Fire: My Comedy of Terrors, he tells about how his influential well-to-do parents pulled strings to get him into the best program with the best doctor at Sloan Kettering. Fwooosh!

In The Red Devil: A Memoir About Beating the Odds, young beautiful hotshot editor Katherine Russell Rich remarks that a big advantage of living is Manhattan is that there are more oncologists to fire. And fire them she does, any time there's a personality clash. Zing!

I don't have this little luxury over at Our Lady of the Damned. There's only one board certified oncologist on staff, and he doesn't even see patients. He just comes in from his private practice one day a week to instruct and oversee the residents. But on the bright side, I'm rarely assigned the same rotating resident twice, so any personality clashes can't last more than the requisite 7 minute clinic visit.

"Cancer survival depends on socio-economic background and is inequitable." And inequitabilty makes me bitter. Once upon a time, I had health insurance. Until I turned 50 and the premium outstripped my income. But it was a lousy limited policy, and even if I had been able to keep it, this cancer would have bankrupted me.

Sometimes I come across web sites that make me so angry I want to pitch my computer out the window. But here's one that made me slam my forehead against the keyboard and cry: The Lime Project. It's about Heather, a 34-year-old potter who was recently diagnosed with Hodgkin's lymphoma. A bunch of her friends have put on a fundraiser, posing naked for a cheesecake pinup calendar they're selling to raise money for Heather's medical expenses.

"Unfortunately, Heather has no prescription coverage on her medical insurance, and because she is working, she doesn't qualify for government aid," these friends tell us on the web site.

"The medications that will keep her alive physically are going to kill her financially, and even if she survives the cancer, she may not survive the debt...the medical bills keep rolling in, much faster than her salary can cover them. We're naked so Heather doesn't go broke. So buy a calendar. Or five. Or just donate. Or buy pottery from Heather- she can finally make things again after not being allowed to touch any clay during the course of her treatment. But help us help Heather. We love her. And none of us want to see her win her fight against cancer, only to be held under crushing debt for the rest of her life just to stay alive."

Is this a fucked up inequitable world or what, when even an insured cancer patient's buddies are reduced to stripping and posing naked on a calendar so she can afford medical care? And then people try to blame it on the Prednisone when I can't stop crying.

So, dear readers, let's review what we've learned today: The existing deprivation gap in relative survival for both men and women confirms that cancer survival depends on socio-economic background and is inequitable. I just want you all to read those words one more time. Especially the word inequitable. This means that some lives are valued more highly, and are more worth saving than others.

Anyone want to join me for a pint of bitters?


The only cancer book I've loved totally and without reservation. RIP Miriam.