Spare Change
In my tarot reading this morning (yes, major woo alert!), I pulled the Five of Cups.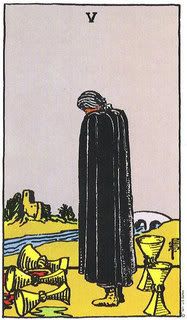 The Five of Cups is about loss. On this card, we see a figure draped in black and covered in grief. He so dominates the card that it is hard to look beyond him. The Five of Cups refers to that time when the pain of a loss is most acute. This man is looking only at the overturned cups in front of him. For now, he cannot acknowledge the two cups that are still standing. Later, when he has healed somewhat, he will be able to see all that remains.

In readings, the Five of Cups can alert you to the possibility of a loss and its associated emotions - sorrow, regret, denial. The loss could be great or small. It could be tangible (money, possession, relationship, work), or intangible (dream, opportunity, prospect, reputation).


Well, woo or not (I actually think of the tarot as a free association Rorschach inkblot test rather than predictive woo), this is certainly trumpeting the obvious. But the reading goes on to say:


You may feel discouraged by this card, but it does have a positive side. Every loss opens new possibilities for growth because every loss initiates change.


Yes, loss does initiate change. And sometimes that change, although accompanied by deep pain and grief, can end up being for the better.

So I'm going to have to sell my beloved house. Major loss; big grief. But on the bright side, I'm actually happier than I'd ever have expected about the prospect of building my tiny dream cottage on the lot next door to Mr. Designated Driver. In fact, happy dreams of this simple, sunny, cozy, uncluttered, low maintenance, well-insulated, tiny cottage have often been the only thing that could pull me out of the Big Ick, the main source of motivation to keep me slogging onward through this hideous hellish nightmare.

Let me show you a little bit about what I'm planning and dreaming.

Here are some photos I took last summer of my designated driver in his double-lot yard. At the time I was more intent on photographing the beautiful man than his property, but you can see a bit of the lot next to his house where I'm planning to build.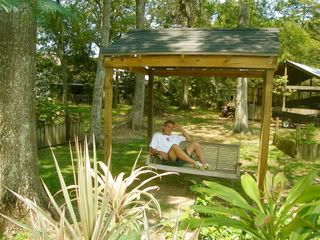 My cottage will be nestled among the trees on the land visible behind the swing. By the way, my designated driver built this swing, and the shed in the background. And every deck, fence, and other structure in these photos. The man can swing a tool!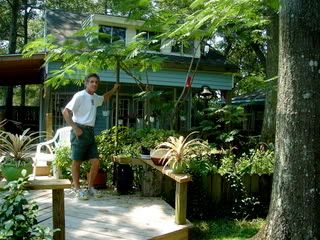 He built this deck, and the studio behind it.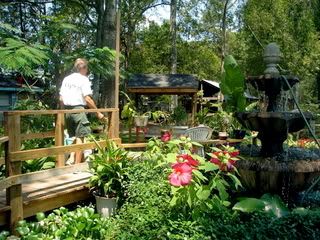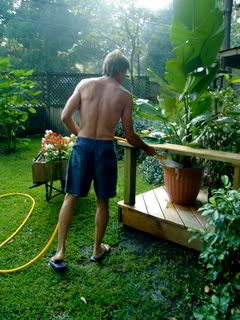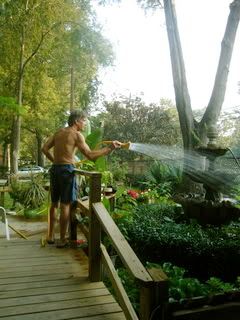 Mr. DD's house and his adjacent lot are located about 90 miles from where I'm living now. They are in a rural area on the edge of a small town not far from the state's capital and major university, and just a little over an hour from what used to be one of the most magnificent cities on earth. And will be again some day.

Ok, so now you've got an idea of the setting, the vegetation, the deliciously handsome and talented neighbor. Next, imagine a tiny cottage, much like this rendering, nestled among those trees: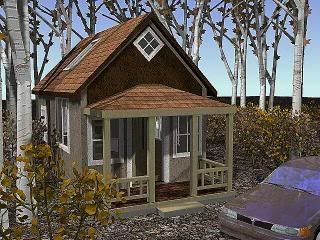 This little starter cottage is only 14' x 24' and can be built for under $20K. It's based on these plans: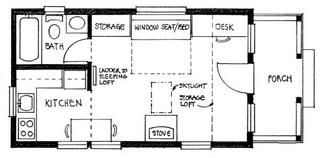 We'll probably start with something basic like this, which should be easy to pass through the permit process and quick to get into move-in condition. Then, as time and money allow, we can add on various nooks and crannies and porches and decks and so forth.

Here are some photos of actual cottages other people have built using this plan: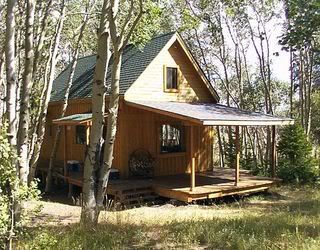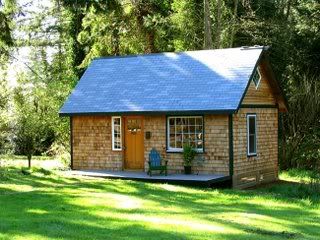 And here is the web site of a remarkable young woman named Heather who built one of these cottages for herself at the age of 17:



Heather's house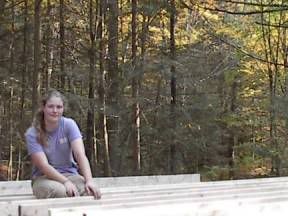 Heather building her floor joists

So this is my dream, the thing that fans my spark just a little faster than the chemo can extinguish it.

You know it's funny, I remember back when I was a naive and dreamy-eyed youth, I thought it was just about the sickest thing on earth that my parents, in their dotage, had decided to have separate bedrooms. I saw this as a sign that their marriage was a failure and a sham, and that they were dour and dried up, tragically devoid of passion and romance. But now I think it was one of the sanest things they ever did. In my own dotage, I not only can't imagine not having a room of my own, I can't bear the thought of not having a separate place of my own. And a tiny cottage of my very own, right next door to Mr. Man, seems like the perfect solution.

Oh, don't worry, once the damn chemo is over, the tiny cottage and its genesis will have a brand new blog of its very own. Real soon. Stay tuned.