Oh Say Can You See My Eyes?
Greetings to the good people of Blogbania! It's Sunday night here in Deep Inferno, and as you can see our regular Monday morning hair alert is being brought to you a few hours early this week. That's because tomorrow is Lundi Gras, and I'll be departing at the crack of dawn to participate in a traditional Mardi Gras courir, or chicken run, so blogging will be pre-empted.

Ok, let's review our progress so far.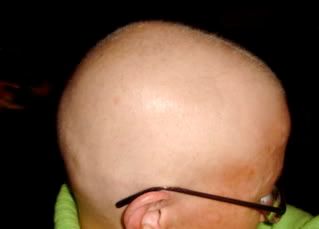 Two weeks ago: It's lonely at the top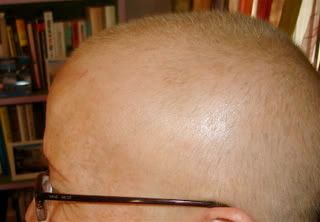 Last Monday: Screaming in a back room, waiting for the big boom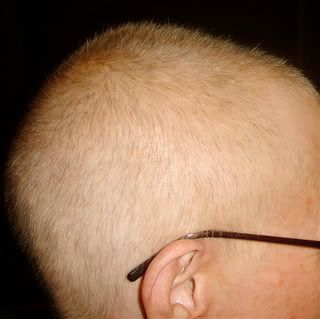 Today: Let it fly in the breeze and get caught in the trees!

As you can see, the fuzz is slowly but surely venturing forth out into the known universe. It seems to be growing fastest in a little ridge along the top of my cranium, lending itself to the aggressively hip soft sweet downy baby-bunny mohawk look. But There's a close race between a little tuft at the back of the crown that's threatening to go all Hare Krishna, and a ruff at the nape that's veering dangerously close to the outer limits of mulletville. At this rate, I'll be having an official bad hair day any minute now.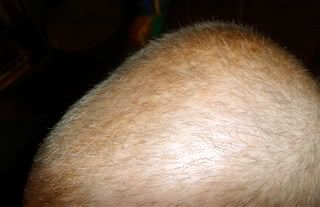 So come on, everybody, let's all sing along:

I want it long, straight, curly, fuzzy
Snaggy, shaggy, ratty, matty
Oily, greasy, fleecy
Shining, gleaming, streaming
Flaxen, waxen
Knotted, polka-dotted
Twisted, beaded, braided
Powdered, flowered, and confettied
Bangled, tangled, spangled, and spaghettied!

Yeeehaw, pass the conditioner!