More Thoughts On Failure
So listen. My therapist is still out of town. She's gone elk hunting, somewhere out west. Yes! I was thinking the exact same thing: this may be yet another clue that we're not in Berkeley any more, Toto.

Anyway, the thing is, I'm still feeling the need to talk some more about my pervasive sense of failure. And she's not here, but y'all are, so hahaha: guess who's going to have to sit and listen while I rattle on.

Seriously, do you mind? You don't have to say anything. Just sit there and nod occasionally, mutter "Mmmm?," pass the kleenex, and try to refrain from yawning or looking at your watch. Ok?

Ok. So here's where we were before Annie Oakley grabbed her damn gun and headed off to Colorado or Wyoming or whatever the hell mountainous state has a surplus of rabid elk stampeding around terrorizing its innocent populace.

We were concluding that failure itself is pretty much irrelevant. It doesn't really matter if it was my fault that I failed, or even if I actually failed, because "failure" isn't real. It's nothing more than a made-up concept, a subjective judgment call, and anyway it can only exist in the past, which means it wouldn't exist any more even if it had been real. It's over and done. So forget about failure, it's not important in and of itself. And the fact is, rational or not, I do feel like a failure, so there's no point in arguing about whether or not I should feel guilty, ashamed, hopeless, whatever. I just do.

What really matters is how I cope with that feeling, what I do when I feel it, and what steps I take to move beyond it. And that's what I want to talk about today. (Brief aside: You know who totally cracks me up? Charles Kroger. Do y'all think you could maybe cross your loafers the way he does, or bug your eyes out, or something?)

Ahem. So. One common way that people react to feelings of failure is to try to pump themselves up by putting somebody else down. They attempt to reinflate their own egos by denigrating others, perhaps members of a different race, or religion, or nationality. Or maybe they pour their energy into booing a rival sports team, or railing against an opposing political party. Perhaps they ridicule female drivers, or fat people, or gay people, or kids with tattoos. They kick the dog, yell at the sales clerk, sneer at people they deem less intelligent or talented than themselves. They become addicted to the momentary high of feeling superior to somebody else.

I think I'd like to try to avoid this particular coping mechanism. I don't think I'd like myself very much if I went around acting like that all the time. Besides, it doesn't really work. So I have to pay attention and catch myself if I ever start slipping into it.

Another common response to feeling like a failure is to turn the anger and aggression inward and attack the self. Women in our society are particularly socialized to resort to this tactic, though men are not immune to it. When people use this coping mechanism they hate themselves and get depressed. They may injure themselves, or develop an eating disorder, or channel their energies into "fixing" what they perceive to be their most visible flaws. They go on diets, get a new hairdo, buy news clothes, shop around for cosmetic surgery.

Even if I believed this technique was efficacious, I couldn't afford it. Anyway, I don't want to go there either. So once again, I have to pay attention and catch myself if I ever start slipping into it. For instance, whenever I pick up those pruning shears and start in on the ol' radical home haircut. (Another not so brief aside--hey, I'm PAYING you exactly what you're worth to listen to this crap, people: I'm feeling especially touchy about my hair this week, since Rumer Willis just got fugged for copying my exact look. But you know what? I had a gift certificate for a massage at a chichi upscale day spa, and when I cashed it in last Tuesday the receptionist raved about my damn hair. "Crappy yellow wig" indeed.) (Ok, wait. Did I just do something there?)

So those are ways I don't want to react. What are some healthy ways of coping with feelings of failure? Well, let's see...

Oh but never mind, ding ding ding! As usual, just when we get to the good part, our time seems to be up.

Thank you all very much for listening so patiently. If you don't mind, we'll take up where we left off again next week. Because even though my therapist is coming back from her wild western vacation (oh god, what if she has Bullwinkle hanging on her damn wall or something?), tomorrow is opening day of squirrel hunting season around here (run, Rocky, run!), so all schools and businesses will be closed for the entire week. Perhaps next week we can also touch a bit on why I never seem to feel like I fit in.

Meanwhile, I leave you with a couple of last night's drawings. A little bit better, but still not quite where I want to be. Onward!



2 minute gesture drawings



20 minute pose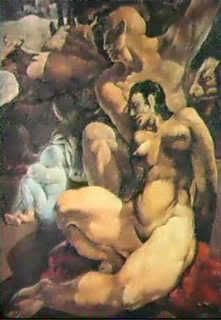 Where I'd really like to be. (painting by Guillermo Meza)