Yet Again: The Muscles of Friday
I've had to slow things down considerably on the muscle building front this week due to back pain that's a result of my severe lumbar scoliosis. I had been doing an upper-lower split along the lines of: upper body, lower body, upper body, rest day; repeat. But now I've switched to a full body workout every other day, three days a week, using only exercises that don't place a load on my spine. It's frustrating and humbling, but necessary: the pain has been getting so grim it's curtailing my QOL in a very ugly way.

So my main exercise now is assisted pullups. This is a great compound exercise that works almost all upper body and core muscles. Four weeks ago I needed a 50 pound assist; now I can do five pullups in a row with only a 10 pound assist. Big w00t! So even though it seems like things are moving at a snail's pace, invisible to the naked eye, progress is actually happening at a pretty respectable rate. If all goes according to plan, two weeks from now I should be able to do five unassisted pullups in a row. And after that, well, the sky's the limit.

My upper body workout now consists of many sets of assisted pullups with various grips; flat bench; assisted dips; assisted one-arm pullups; reverse rows hanging from the Smith Machine; and bodyweight pushups. For now lower body is bodyweight squats, lunges, and step-ups; glute bridges with my feet on a large Swiss ball; and reverse heyperextensions, except on days when those hurt.

In a way the photos I've been posting are deceptive, because what looks like progress is sometimes really more about getting the light right, catching it in a way that's flattering and maximizes definition. I haven't quite figured this out yet, but here are two different shots with light from slightly different angles, in an attempt to be brutally honest. I want to be able to look at these a few months from now and see what I really looked like, not just what I wished I looked like.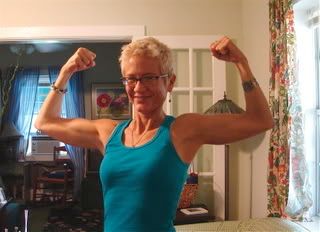 Kickin' ass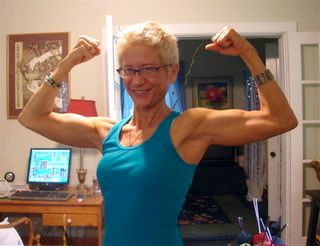 Takin' names