What A Waste
One of the drugs I take as part of my chemotherapy is Prednisone. It's evil stuff. I take 100 mg. for the first five days of every three-week cycle. It wreaks all kinds of havoc. I mean, I'm not complaining or anything; heaven forbid. The tumors are shrinking almost as fast as my bank account, and for that I am grateful.

But still. Even the world's perkiest trouper will admit that chemotherapy has its dark side, and that it destroys the body and soul right along with the malignant cells.

The worst thing for me about Prednisone is not the mood swings, or the killer migraines, or the miserable aches and pains, or the monstrous appetite. It's the fact that Prednisone is a catabolic steroid. This means it's the opposite of those anabolic steroids of which certain athletes have been rumored to partake. Prednisone actually breaks down muscles. And at this point I don't have many muscles left to break down.

One of the ways this catabolism works is that the Prednisone radically slows the healing process. And the way muscles are normally built up is, when you use them to create resistance, for instance by lifting something heavy, doing 30 pushups, or walking up a flight of stairs, the muscle tissue is microscopically torn, broken down. In normal situations, it quickly heals, and in 24-48 hours, it has rebuilt itself bigger and stronger than before.

But with Prednisone, healing doesn't happen and the muscle tissue doesn't rebuild after being torn down. Or if it does, the process is glacially slow. I can see how slow by watching various nicks and scrapes refuse to heal (this constitutes major entertainment here at the House O' Tumors these days). So I've been doing some light training with 10 lb. dumbbells, but only once or twice a week. I don't want to make matters any worse than they are.

Here you can witness as my muscle mass deteriorates over six months, a process know as sarcopenia. A combination of catabolic drugs, inactivity, and tumor cachexis have all contributed to this debacle. Believe me, I'm counting the minutes until I can get my emaciated ass back to the gym and throw some serious iron around with the big boys. It's one of the dreams that keeps me going.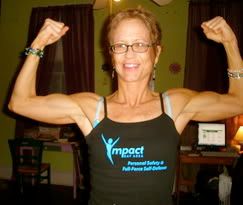 Me in March 2006.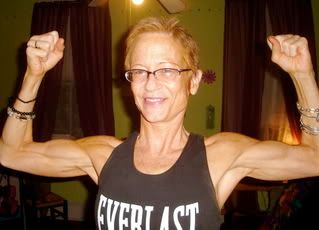 Me on September 22, 2006. After diagnosis but before chemo started.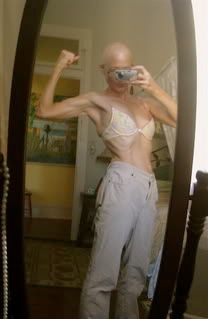 Me on November 19th, 2006, after 2 treatments.
November 19, 2006