Have A Heart
My chemotherapy has been moved from Wednesday to Thursday this week because I have a MUGA scan scheduled for Thursday morning. One of the drugs in my toxic chemo cocktail, Adriamycin (aka the Red Devil for more than one reason), can be toxic to heart muscle, sometimes causing heart failure. So I have to be monitored periodically during the course of treatment to make sure I still have a viable heart.

MUGA stands for MUltiple Gated Acquisition scan, and the folks here at Damned General pronounce it MUG-a. But on House MD, the actors pronounce it MOO-ga. Is there a higher authority somewhere that decrees correct pronunciation of acronyms? My philosophy has always been, when in doubt just don't talk about it. Unfortunately the number of words I can't pronounce since I caught cancer is driving me into a career as a mime.

Anyway, the way the MUGA scan works is they inject radioactive Technetium 99 (there's another one! tek-NET-ee-um? tek-NEE-shum? and how the hell do you mime that, anyway?) into my one tortured remaining vein, and the hot sauce attaches itself to my red blood cells. This is why they have to do it before chemo rather than after, because the chemo may totally obliterate my red blood cell count. Then once I'm sufficiently glowing, the scanner can capture a moving image of my heart, sort of like an ultrasound, and measure the ejection fraction of my left ventricle.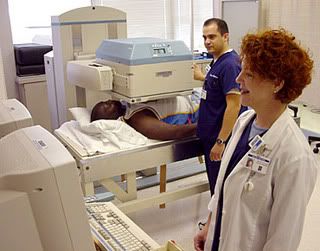 Yes! You can actually keep your clothes on during a MUGA scan.

If the left ventricular ejection fraction is less than 50%, they will not administer Adriamycin. Which would be great! That stuff is soooo evil. Except that it would mean I have a severely damaged heart, and that my cancer treatment would be less effective. My MUGA score was a nice rollicking 53% before I started treatment, and it would have been a lot higher except the tumor was causing pericardial effusion and impinging on my heart. On Thursday I'll find out whether the heart muscle has sustained any permanent irreparable damage. I'm just the tiniest bit nervous.

But on the bright side, I have a blog! If it turns out I need a heart transplant, I'm sure all you kind generous healthy O+ blog readers out there will not hesitate to volunteer as donors.