A Cryogenic Day In Deep Inferno
Are y'all freezing where you are? We're dying here. It's not such a big deal that it's been 36 degrees and raining outside all day; the big deal is that it's been 36 degrees and damp and gloomy inside. (Please keep this information to yourselves; we don't want to be scaring away potential house buyers.)

So my brilliant handsome son who lives in Ohio is visiting me for the week, telecommuting to work every day from my dining room, and even he is freezing. My dining room is colder than Ohio! Even sitting at a table right next to the charming antique floor furnace, he has to wear those hi-tech thermal undergarments from REI, you know the kind people wear when they backpack across Antarctica, and huge woolen gloves from the polar hunting department at the Wal-Mart: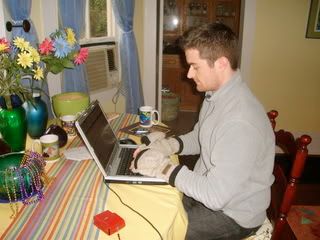 The poor dogs are huddled over the furnace in their little Irish fisherman sweaters: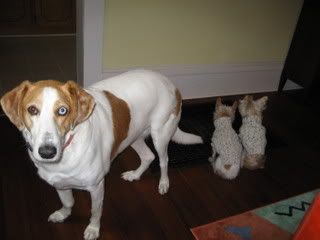 And don't even ask what I'm wearing. This weather is just ridiculous.

But you know what? I mean speaking of weather, and going outdoors and stuff? It just occurred to me that since I'm ending chemotherapy early, I'm going to be able to prune my roses in February after all! I thought I wouldn't, because as long as I'm in chemo I'm not allowed to work in the garden or even with house plants, no going near soil or thorns, on account of the microorganisms that might attack my compromised immune system. If I'd done all eight weeks, I wouldn't have finished treatment until mid March, too late to prune here.

I'm going to be leaving a lot of roses behind when I sell the house, and I'm ok with that. But I'm not ok with not pruning them before I go. I think I actually have a strong compulsive inborn biological drive to prune my roses, and it kicks in full force on February first. If I couldn't prune when the season rolls around, I'd probably go mad, like a migratory beast trapped pacing in a cage, or a deranged Labrador retriever whose tennis ball got stuck behind the refrigerator.

Anyway, since I'll probably have to prune a week or two late, this miserable cold snap is good because it'll keep them in a deeper dormancy just a little bit longer.

Shit. Do you have any idea how good it's going to feel to get back in the garden? To pull weeds, and prune roses, and slosh my hands around in rich crumbly manure? How heavenly it will taste to eat a fresh crisp apple, or a sweet juicy strawberry; how wonderful to go back to the gym and feel my body stretching and moving and flexing again? To go to parties? To watch the parades? To start growing hair? All the little pleasures I've always taken for granted. But I swear I never, ever, ever will again.