In Which Our Heroine Goes A Bit Overboard With A Theme
So in a fit of maudlin and macabre madness today I decided to sit down and make a list of all the things I 've been meaning to do that I'd better hurry up and do now, before my right hand is amputated. Just in case this turns out to be thumb cancer. You know, stuff like join a bowling league, perform brain surgery, learn to play bagpipes.

It was a depressingly long list, but the good news is: I actually managed to accomplish one item, to finish it, to check it off, cross it out, say woo hoo. Yes! After living in my shack for what, two months now? I finally finished sewing my Frida curtains, out of the fabulous Alexander Henry print fabric that's called "Frida's Garden."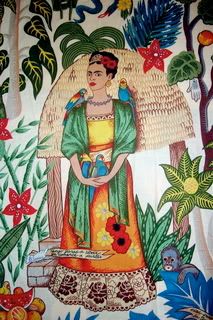 Close-up: Frida with her parrots and monkeys and tropical plants



With her paint brushes and icons and oh my god, are those Stapelias? Ewwww!!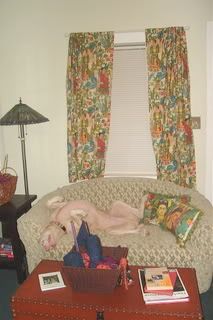 A festive backdrop for the newly recovered loveseat.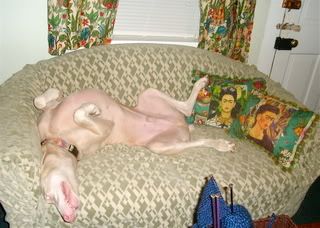 And yes, we have an unfortunate case of Frida home decor mania run amok: those are Frida throw pillows. Great Roomba, enough already!