Enjoying the Heck Out of Life
After spending this past week fending off floods and hurricanes and mosquitos and enormous black clouds of lovebugs so thick the street lights came on in the daytime, it was a relief to finally have a beautiful, clear, sunny, not-too-hot day to spend out tootling around on the water. Ah yes, now I remember why I love Louisiana so much!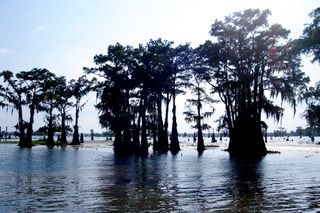 Cypress trees in the Basin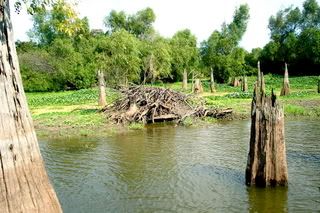 A beaver lodge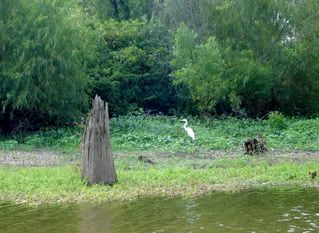 An egret



An alligator checks out the boat: this guy was about 13 feet long, which means he's probably about 70 years old.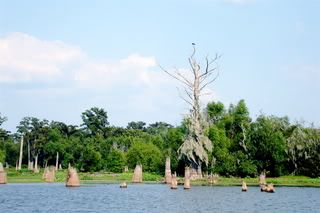 If I had a fancier telescopic lens, you could you see that's a bald eagle sitting in the top of that tree.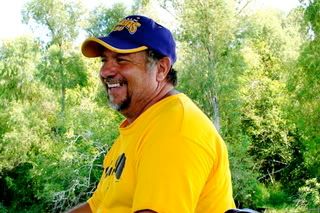 Norris telling very bad Boudreaux and Thibodeaux jokes.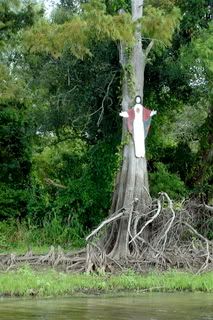 Jesus Christ on a tree!



A painting of The Last Supper, hanging way the hell out in the middle of the swamp. We don't need no steenkin' museums down here.



The Henderson Queen looks like a very very very old rustic Cajun houseboat, but was actually built in the 1980s for a movie set.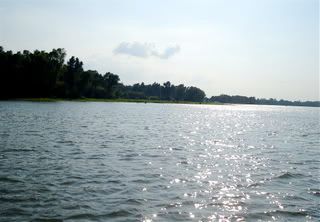 Late afternoon sun sparkling on the water. How much better can life possibly get!