More Dogs In My Life
I really love being around dogs, and dog people.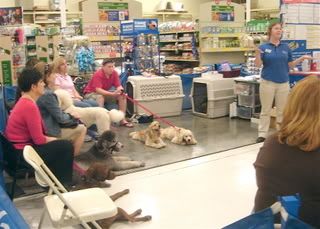 This is our clicker training class last night. We're using clickers to learn tricks which so far include: shake hands, high five, wave, spin in a circle, walk around a chair, give a bow, and crawl like a snake.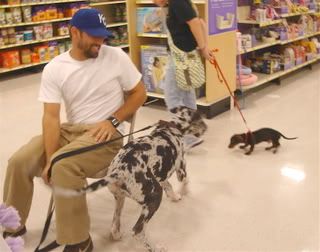 Not all the dogs in the class are big galoompfs.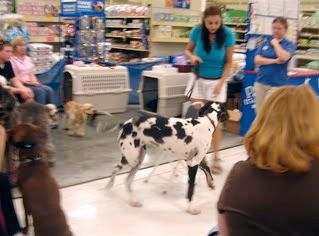 Here's a Great Dane puppy walking in a circle around a chair on command. Superman can do this too!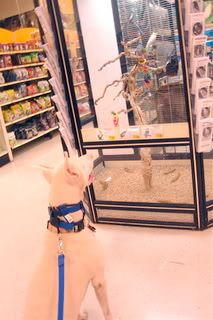 But he'd rather sit and stare at the damn birds.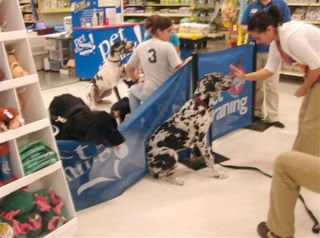 Here's another Great Dane puppy working on "high five," with a huge Newfie pup looking on.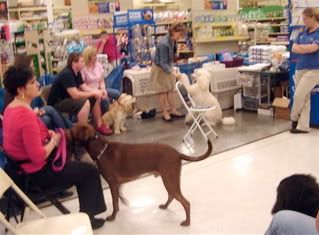 Here's a standard poodle shaking hands. Superman can do all these tricks.



But here he is again, still fixating on the damn birds.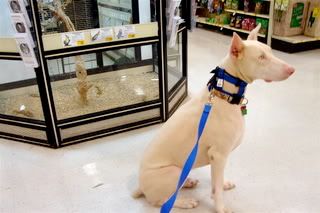 Finally it's time for Superman's big trick of the night, his masterpiece, his grand finale. Which was: "Ignore the damn birds!" When I give him that command, he turns around and sits with his back to the bird cage. Good boy, excellent boy!

Everybody cracked up. I love this class.