Field Trip!
For the first time in many months, I ventured away from home this weekend. My handsome brilliant son and I drove over to Mr. Designated Driver's amazing house, which is a terrifying 90 minutes away. I was full of anxiety about the road trip: what if I was beset by intestinal dramas? What if I encountered deadly infectious organisms? What if there was so much excitement I dropped dead of exhaustion?
But none of that happened, and I had a fabulously revitalizing time.
Like me, Mr. DD surrounds himself with color.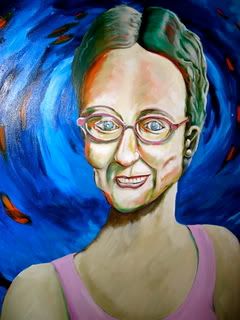 Unlike me, he makes his own colorful paintings.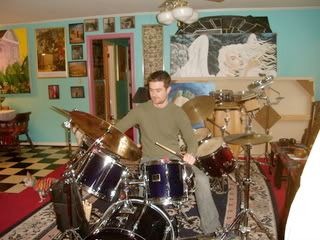 We had a blast. My kid and I took turns banging on Mr. Man's drums.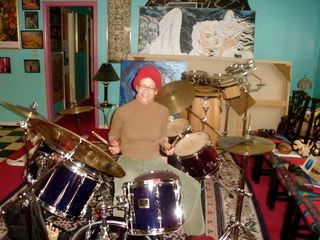 Here's me doing my famous Gene Krupa imitation. I totally rock.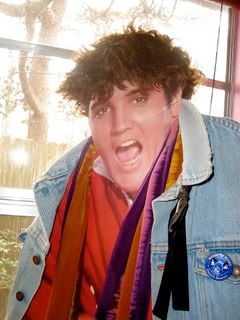 Mr. DD's hound dog kd got hold of my wig and was running around the house wildly shaking it like a dead rabbit, which was terribly hilarious, but after a while it was getting kind of soggy so I let Elvis borrow it to keep it out of her reach.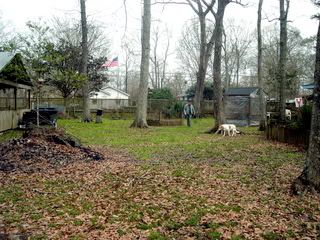 It was a gloomy dreary winter day, but we went out and walked around the lot where my teeny tiny cottage will go.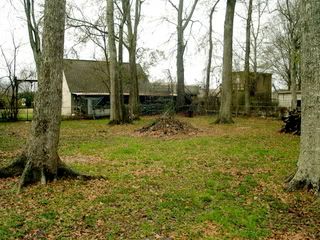 The little cottage will fit right in the middle of this ring of trees, sort of where that leaf pile is.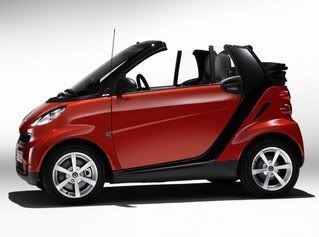 I'm dreaming of a teeny tiny car to go with my teeny tiny cottage.
In the afternoon we took my handsome brilliant son on a devastation tour of New Orleans, then had coffee and hot fresh beignets at Cafe Du Monde. Powdered sugar got all over the Designated Driver! This was my first time eating in a restaurant since I started chemotherapy last October. I figured it was ok since the beignets were piping hot out of the deep fryer and the coffee was in disposable cups. Fortunately none of the filthy pigeons landed on our table.
It was a wonderful weekend. I'm tired, but happy and more energized in the spirit than I've been in ages. The countdown continues: Five more days and the chemo is FINISHED!!! And then, the great merciful noodly FSM willing, I'll be back to having new adventures every single day. Hang on, it won't be long.