Holy Frickin Fecal Matter!
Ay yi yi! Check out this delightfully squicky medical horror story over at Kevin M.D.'s blog, a cautionary tale of Guide Wires Gone Wild.


A 40-year-old man with Crohn's disease underwent an uncomplicated operation involving lysis of adhesions that were causing intestinal obstruction. After surgery, a cardiologist inserted a central venous catheter through the left subclavian vein. No problems with catheterization were noted. Three weeks later, after discharge, mild pain and edema developed in the patient's right lower leg. He was treated with antibiotics for 1 week, and his symptoms diminished. Six months after the operation, the patient presented with posterior cervical pain. A guide wire, presumably lost during the insertion of the central venous catheter, was protruding from the back of his neck...[!!!]


Creepy guide wire stories always hold a special intrigue for me. Do y'all remember back when my chemo port was implanted, a piece of one of the guide wires broke off during surgery? A high-speed chase ensued, with a crack team of radiologists in hot pursuit of the fugitive wire as it galloped amok through my veins. In my case the hotshot docs located it and pulled it out through a hole in my groin. (What exactly is the difference between a groin and a loin anyway?) But nobody bothered to remove the broken guide wire from this poor man, and six months later the damn thing poked right out through the back of his neck: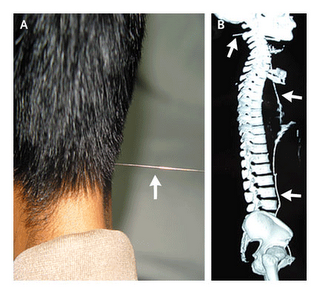 I tell you what, it's a damn good thing I don't have any hair right now or it would have stood itself straight up on end and burst into flames just from looking at that photo.

Incidentally, I got the bill for my port surgery in the mail the other day. The anesthesiologist who administered the twilight charged me $520; the prepubescent resident who performed the port installation and broke the guide wire charged $54; and the crack team of radiologists called in to remove the renegade wire charged a whopping $2,241. I was going to complain about this exorbitant wire removal fee, but now I'm suddenly inclined to send them flowers instead.