Monday Morning Hair Thing
It's almost three months now since my last chemo, and what I want to know is, why the hell do the weeds in my yard grow about 900 times faster than my damn hair?

But I have a great hair story to tell! Yesterday I went to a home & garden show exposition type thing at the coliseum. I was milling around like a kid in a candy store--or, more like a crackhead in a dark alley, all but mainlining Plumeria and other esoteric little cuttings that I have no place to plant--when a woman with hair just a little bit longer than mine but quite a bit thinner walked up to me and said, "Hey, I recognize that haircut. How are you doing?"

I can't tell you how happy this made me! Being recognized as a memebr of the secret sisterhood or something. Though I can't exactly say why. Anyhow, I told her I was doing pretty well, and asked her how she was. It turned out she's not doing as well. The reason her hair is so thin is that she had a relapse and has started another round of chemo, six months after the first. Damn. But we had a nice little chat about how convenient it is to step out of the shower every morning and realize you're as hairless as a six year old. The only possible sliver of a silver lining, I guess, though I don't miss it myself.

Anyway, here it is, what you've all waited for all week, the thicker but still regrettably short Monday mane:



Monday, March 5th



Monday, April 2nd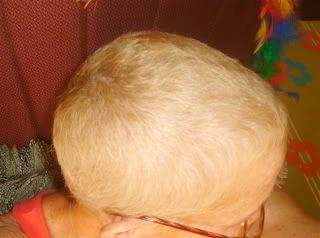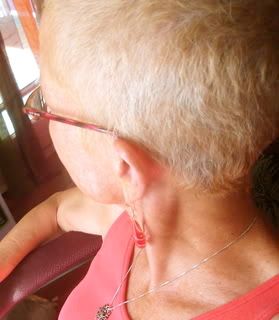 Way too slowly, but nevertheless surely. Go, hair, go!