Dog Is Great, Dog Is Good
Thanks so much everyone for the kind supportive comments after my port debacle yesterday. I'm feeling better today. It's amazing--and a little alarming--how much comfort and joy I derive from my blog and my dogs. Alarming because I worry that I'm in increasingly deep doo-doo danger of becoming one of those crazy old dog ladies who totally eschews non-virtual human companionship.

When I came home from the hospital yesterday I was totally exhausted, angry, defeated, and on the verge of tears. But my dogs were just so unabashedly overjoyed to see me! They didn't berate me for not being assertive enough, they didn't blame me for being such a loser, they didn't yell at me for crying, they didn't threaten to leave me because my life is too fucked up. And hey, neither did y'all!

My dogs have never once recoiled with repulsion at the sight of my port, and they don't remind me daily that I'm no longer attractive. They were just there for me yesterday when I needed them, happy and waggy and lovey-dovey, comforting me with their silly goofy grins and big wet kisses. Not for one minute were they critical or judgmental or irritated at my many failings. Why the hell is it so hard for some people to be like that?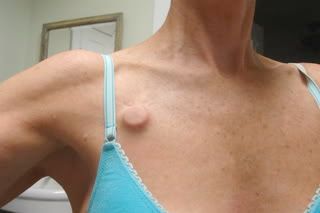 The port that won't go away

Anyway, the dogs and the kind comments got me through a rough night, and today I'm feeling ok again. So I still didn't get my hideous port removed. But at least it wasn't a life-threatening failure on the part of the System. And I hate to complain because I know many of the other folks waiting with me yesterday had bigger hardships than I did. Quite a few of them had to leave after waiting six hours or more, before they even saw a doctor. Some had obligations like picking up kids at daycare; others had to catch the last bus because if they missed it they'd have no way to get home. One woman had to leave because she had her 36-year-old Down syndrome daughter in tow and the daughter was starting to have a serious meltdown from the long crowded wait.

And by leaving these people totally forfeited their appointment, so they'll have to wait several months for another one. Which means they'll have no choice but to go that hellhole of an emergency room to wait 12-15 hours if they need help with infected incisions or excruciatingly painful stumps.

This system totally sucks.

Speaking of which, how many of y'all have seen Sicko? I haven't, because as I said in comments, it will probably get to Netflix long before it's ever shown in a theater within 90 miles of Deep Inferno. But I've been hoovering reviews and really looking forward to the various dialogs it's bound to open. Though I know it's inevitably going to unleash an angry backlash from the fully insured who are afraid that any improvements for the less fortunate will mean they might have to relinquish some of their healthcare privileges.

And sure enough. A couple of days ago some folks were discussing Sicko on one of the online lymphoma boards I sometimes frequent. I was pretty shaken by some of the comments. For example, I quote:


"I have no desire to see it. The health care in the US is the best in the world. We are free to seek the opinions and treatment from any institution anywhere. Many here can attest to seeking opinions from sources in MD anderson, Mayo, Sini, and the list goes on. People from other contries come here when their state controlled Health care fails them.

I know I come across as a hard ass on some threads but I honestly have compassion for the terible choices we all face. The money it takes to develop the drugs we take are stagering. The drug companies test 1000s of drugs to find 1 that actually works. The cost to develop those drugs have to come from the users of those drugs. Thats the free market - profit incintive causes better drugs to be developed plain and simple.

People will pay for new cars, cable TV, Cell phones, vacations, starbuck coffee, ... and claim Health insurance is too much. But the fact is they see that the cost benifit of health insurance was just too far down on their list. Many (not all) are uninusred due to choice." [sic]


Sheesh. I guarantee you the miserable throng of uninsured people crammed in that drab airless waiting room at Our Lady of the Damned yesterday were not sipping raspberry mocha frappuccinos while they jingled their BMW keys and discussed upcoming vacations to the French Riviera.

What the hell planet is this person from? Dude: try being over 50, self-employed, low-income, with several preexisting conditions, and see if you can afford the skyrocketing premiums. And then there's the whole mess of being underinsured. Even if I'd been able to afford to hang on to the shitty little health insurance policy I had managed to qualify and pay through the nose for for five years until 18 months before I got sick, it wouldn't have covered more than maybe an eighth of my cancer expenses. I would still have ended up bankrupt.

Even on lymphoma "support" boards, there is contempt for the less fortunate. Or at best we're invisible. The moderator of one board routinely greets newcomers with advice to seek out top lymphoma specialists at top cancer centers, without a thought to those who can't possibly afford it. Not to mention those who can barely manage to arrange transportation to and from the nearest public charity hospital.

And whenever the topic turns to statistics and prognostics on one of the cancer boards, somebody is bound to trot out Steven Jay Gould's famous essay, The Median Is Not The Message. Gould survived for 20 years after he was given 8 months to live, and we are all expected to take great comfort in his conclusion:


"When I learned about the eight-month median, my first intellectual reaction was: fine, half the people will live longer; now what are my chances of being in that half. I read for a furious and nervous hour and concluded, with relief: damned good. I possessed every one of the characteristics conferring a probability of longer life: I was young; my disease had been recognized in a relatively early stage; I would receive the nation's best medical treatment; I had the world to live for; I knew how to read the data properly and not despair."


But what about those of us who aren't in the good half, who don't possess those magic characteristics for long life? Particularly those of us who won't "receive the nation's best medical treatment"? The general view on the "support" boards seems to be, "Whew! I got mine, so to hell with those poor bastards who fall on the wrong side of the dividing line." Which is one of the reasons I've never spent much time seeking "support" on those boards.

And speaking of contempt, here's a cute furry little anecdote. One of my low points in the nightmare that was yesterday came when the doctor was dismissing me and my tiresome problems with an indifferent wave of her hand. As I was leaving, I pointed to the sign that's on the door of every exam room, a list of Every Patient's Rights and Responsibilities. The number one Patient's Right at the very top of list is the right to "reasonable access to care."

"Do you call this 'reasonable'?" I asked, referring to either my six hour pointless wait or my six month fruitless quest to have the damn port taken out. She shrugged and said, "I'm sorry but it's not always possible."

"Then I suggest you take down the sign," I said. "If I don't really have the right to reasonable access to care, then don't advertise that I do."

She shrugged again and said smugly, "Well, you do always have the right to go elsewhere."

Oh don't I wish I had that "right." But she knows as well as I do that without insurance, even if I can pay out of pocket, private doctors and hospitals won't give me the time of day. They'll automatically turn me away, suggesting that I shuffle back over to Our Lady of the Damned. Without insurance, I have no "rights" whatsoever to anything other than the charity system.

Do you know what a slap in the face it is to realize that even your doctor has such utter contempt for you?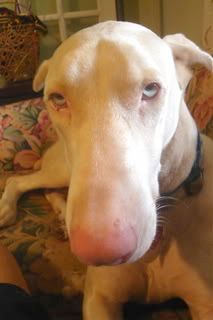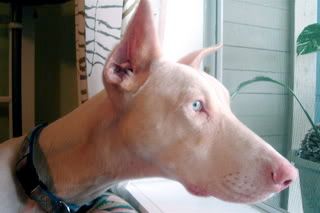 Give me dogs and blogs any day.