Bettah Off At Last
This is a difficult post for me, but it's something I've been needing to get off my chest.

Yesterday when I was describing my harrowing experiences in the ER waiting room at Our Lady of the Damned last summer, I found myself starting to write the following sentence: "I've been in pain, terrified, alone, crying, unable to breathe..." And then I stopped, and went back, and deleted the word alone. Because technically, I wasn't alone. There was somebody waiting at the hospital with me: the man who claimed to love me, the man who claimed he wanted to marry me and spend the rest of his life with me. And yet, when I look back, my predominant memory of those long miserable nightmarish waits for medical help are of being starkly, surpassingly, heartbreakingly alone.

He was there, but at the same time he wasn't. During those waits, he was almost always completely absorbed in his own resentment, angry, furious, bursting at the seams with rage. He was ostensibly mad at "the system," but ultimately he took it out on me, and blamed me for everything that was going wrong.

During those long tense waits, while I gasped for breath and braced myself to fight what doctors then suspected was advanced and probably terminal lung cancer, he never once smiled or reached over and held my hand, or offered kind words of comfort and encouragement. He never showed any empathy or compassion for me or my fears. He just sat and fumed and glowered, grumbled and stewed. Occasionally he would snap at me in annoyance, then retreat back into cold distant silence, reading his book or wandering off in search of a vending machine. When we were finally back in the privacy of home after 12 horror-filled hours, he would explode in a cold icy fury, storming around, seething with blame, yelling at me and threatening to leave me until I was lying on the floor sobbing, with no more will to go on living.

"You're so lucky to have him," people would say. "Not many men stand by their women in times of grave life-threatening illness like he is. It's probably just the Prednisone that's making you so moody and unstable. Maybe you should see a therapist. You know, it's actually harder for the caretaker to go through a situation like this than it is for the patient."

Lord help me Jeezis, I felt like I was losing my fucking mind.

But you know what? I could have saved myself a bundle in therapy bills if only somebody had given me a copy of Why Does He Do That? Inside the Minds of Angry and Controlling Men by world-renowned authority on domestic violence and abuse Lundy Bancroft. Damn, I wish I'd known about this book a year ago. Or better yet, three years ago. Or hell, thirty years ago! It sure would have saved me a lot of grief.

So wait, sure there were some bad moments, but there were also good times, plenty of them. So, I mean, abuse? Was this really an abusive relationship, you ask? That's an awfully loaded word.

It is. And you know, I had always prided myself in believing I would never stay ten minutes in an abusive relationship. Not me. I would not put up with anyone who ever laid a hand on me, or called me a bitch to my face, or anything like that. But what I learned from this book is that abuse can take many subtle insidious forms. It's not just about hitting or name-calling.

According to Bancroft:


I have chosen to use the term abusers to refer to men who use a wide range of controlling, devaluing, or intimidating behavior. In some cases I am talking about physical batterers and at other times about men who use or insult their partners but never frighten or intimidate them. Some of the men I describe in the pages ahead change moods so drastically and so often that a woman could never feel sure what they are like, much less attach a label. Your partner may be arrogant, or may play mind games, or may act selfishly over and over again, but his better aspects may make you feel that he is miles away from being an "abuser." Please don't let my language put you off. I have simply chosen the word abuser as a shorthand way of saying "men who chronically make their partners feel mistreated or devalued."


But how could I have been so blind as to not realize I was being subjected to abuse? Read on:


One of the obstacles to recognizing chronic mistreatment in relationships is that most abusive men simply don't seem like abusers. They have many good qualities, including times of kindness, warmth, and humor, especially in the early days of the relationship. An abuser's friends may think the world of him....So when a woman feels her relationship spinning out of control, it is unlikely to occur to her that her partner is an abuser.

Most abusive men put on a charming face for their communities, creating a sharp split between their public image and their private treatment of women...They are drawn to power and control and part of how they get it is by looking good in public.



So how can I know it was abuse?


The symptoms of abuse are there, and the woman usually sees them: The escalating frequency of put-downs. Early generosity turning more and more to selfishness. Verbal explosions when he is irritated or when he doesn't get his way. Her grievances constantly turned around on her, so that everything is her own fault. His growing attitude that he knows what is good for her better than she does...

At times he is aggressive and intimidating, his tone harsh, insults spewing from his mouth, ridicule dripping from him like oil from a drum. When he's in this mode, nothing she says seems to have any impact on him, except to make him even angrier. Her side of the argument counts for nothing in his eyes, and everything is her fault. He twists her words around so that she always ends up on the defensive....


But he would never call it abuse! In fact, he often denied all the cruel things he'd said and done. According to Bancroft:


The partners ask me: "After an incident, it seems like he really believes the abuse didn't happen. Is he consciously lying?" The answer in most cases is yes. Most abusers do not have severe memory problems. He denies his actions to close off discussion because he doesn't want to answer for what he did., and perhaps he even wants you to feel frustrated and crazy.

He'll speak to you with his voice trembling with anger, or he'll blame a difficulty on you, or he'll sulk for two hours, and then deny it to your face. You know what he did--and so does he--but he refuses to admit it, which can drive you crazy with frustration. Then he may call you irrational for getting so upset by his denial.

Abusive men present their own stories with tremendous denial, minimization, and distortion of the history of their behaviors.

An abuser almost never does anything that he himself considers morally unacceptable. He may hide what he does because he thinks other people would disagree with it, but he feels justified inside...In short, an abuser's core problem is that he has a distorted sense of right and wrong. The abuser's problem lies above all in his belief that controlling or abusing his female partner is justifiable.


Bancroft describes different types of abusers, and several of these punched me right in the solar plexus, they were so accurate:


Mr. Right considers himself the ultimate authority on every subject under the sun: you might call him "Mr. Always Right." He speaks with absolute certainty, brushing your opinions aside like gnats. When Mr. Right decides to take control of a conversation, he switches into his Voice of Truth, giving the definitive pronouncement on what is the correct answer or the proper outlook. Abuse counselors call this tactic defining reality.


The Water Torturer tends to stay calm in arguments using his own evenness as a weapon to push her over the edge. He often has a superior or contemptuous look on his face, smug and self-assured...like Mr. Right, he tends to take things she has said and twist them beyond recognition to make her appear absurd. He gets to his partner through a slow but steady stream of low-level emotional insults. She may end up yelling in frustration, leaving the room crying, or sinking into silence. The Water Torturer then says, "See, you're the abusive one, not me. You're the one who's yelling and refusing to talk things out rationally. I wasn't even raising my voice." The psychological effects of living with the Water Torturer can be severe.


The Player is good looking and often sexy. In the early part of the relationship he seems head over heels in love and wants to spend as much time in bed as possible ...As the relationship progresses, he may start to go for long periods giving his partner next to no attention and barely speaking to her, so she feels shelved.


Rambo is aggressive with everybody. He gets a thrill out of the sensation of intimidating people and strives to handle life situations by subtly or overtly creating fear. He has an exaggerated stereotypical view of what a man is supposed to be, which goes hand in hand with seeing women as delicate, inferior, and in need of protection.


Ok, so maybe he was abusive. But he kept telling me how much he loved me! Uh-huh. Bancroft has this say:


The reality is that abuse is the opposite of love. He may feel a powerful desire to receive your love and caretaking, but he only wants to give love when (and how) it's convenient for him.

When an abusive man feels the powerful stirring inside that other people call love, he is probably largely feeling:



The desire to have you devote your life to keeping him happy with no outside interference.

The desire to have sexual access.

The desire to impress others by having you be his partner.

The desire to possess and control you.


But a few days or weeks after his outbursts, he would apologize. Doesn't this prove he was truly sorry? Bancroft counters:


The good news is that remorse is often genuine; the bad news is that it rarely helps. Abusers have numerous contradictory attitudes and beliefs operating simultaneously in their minds. When a man feels sorry for his abusive behavior, his regrets collide with his entitlement.

His remorse is not primarily focused on the way his verbal assault wounded his partner. What he feels bad about mostly is: (1) He damaged his image in other people's eyes; (2) he offended his own sense of how he would like to be; and (3) he feels he should be able to control his partner without resorting to abuse... In a day or two his guilt is vanquished, driven out by his internal excuse-making skills. The effects of the incident last much longer for the abused woman, of course, and pretty soon the abuser may be snapping at her: "What, aren't you over that yet? Don't dwell on it, for crying out loud." His attitude is, "I'm over it, so why isn't she?"


Is there no hope whatsoever? Can men like this ever change? Bancroft isn't optimistic:


My fifteen years of working day in and day out with abusive men have left me certain of one thing: There are no shortcuts to change, no magical overnight transformations, no easy ways out. Change is difficult, uncomfortable work. The majority of abusive men do not make deep and lasting changes even in a high-quality abuser program. An abuser who does not relinquish his core entitlements will not remain non-abusive.


Bancroft lists a series of conditions that an abuser must meet in order to genuinely change, but I'm certainly not holding my breath. The main epiphany I got from this book was not hope that a man can mend his evil ways, but rather a huge sweeping sense of relief and freedom, from knowing that it wasn't all my fault and that I'm not crazy after all. It's such a liberating relief to finally have a name for what was going on, and a Witness who understands what I went through. I almost wondered if Bancroft had maybe gotten some kind of grant to follow me around throughout my cancer treatment, some of his examples were so eerily close to home.

Anyway, I am so much happier now that the abuser is completely out of my life. I feel lighter, freer, more relaxed, and I have so much more energy. Do you have any idea how draining and exhausting it was to be constantly contending with that nonstop stream of arrogance, criticism, control, contempt, denial, dismissiveness, defensiveness, deception, entitlement, grandiosity, hurtfulness, irritability, judgment, manipulation, narcissism, superiority, ...well, the list goes on. But I think Bancroft sums it up best with one word: devaluation. I've finally been able to shake off that deadening sense of being continually devalued.

Abuse is inexcusable under any circumstances, but may I just go on the record right now as saying that I sincerely hope there's a very special hot spot in hell for anyone who abuses, hurts, or devalues a person going through cancer treatment? Thank you.

Some relevant articles: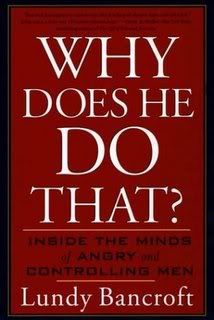 Lymphopo says: Shop till you drop!