New Inventory In Ye Olde Booke Shoppe
Hey! I've been adding some new stuff to my Deep Inferno Trading Post, and I just thought I'd send y'all a heads up about some of my faves that you might like to check out.

If you're one of those people whose moods are highly sensitive to your surroundings, if you're more interested in expressing your True Self than putting on a show to impress other people, and if looking at my irreverently demented home decor didn't drive you to jab icepicks through your corneas, then you might enjoy My Prescription for Anti-Depressive Living by the exuberant potter and designer Jonathan Adler.




Jonathan says:


"My hope is to give you, cher readeur, a transfusion of joy, abandon, and creativity in decorating your home. Adulthood can make you too serious. Modern technology can burn you out. Daily routines can make you give up on your dreams of grandeur. There are remedies for these ailments, and the remedies are at your fingertips, with the help of Moi, some courage, and pluck. Your home can be the antidote to the heartaches and traumas of everyday life.

I want you to walk in your front door every day and feel happy."


Typical anti-depressive decorating advice from Jonathan Adler:


Minimalism is a bummer: Be immoderate and be happy!


Your home should be like a good dose of Zoloft.


Just because clowns are creepy doesn't mean you shouldn't put one over your fireplace.


Colors can't clash.


Exude exuberance, be inappropriate, make mischief, liberate your inner hippie, love what you love, be true to yourself.

"When you have your picture taken, rent a white poodle and eat Froot Loops--they're more photogenic than oatmeal."

The book is filled with wonderful and wry little Adlerian anecdotes:


"Recently, Simon and I surveyed our New York pad and thought smugly, 'This apartment is a three-dimensional expression of who we are as people, and the art choices are perfect. Could we be more brilliant?' Then, as we looked around, we realized that all of the art featured funk icons or hetero soft-core porn.

Helen Keller could see that we are neither R&B musicians nor porn stars. The truth is, we are more like a couple of herbal tea-sipping grandmothers. We are blissfully content but rather vanilla. We don't drink, we're in bed by ten. Whence the art?

Your stuff (art, objets, furniture) can reflect sides of your personality that rarely see the light of day. Clearly, our idiosyncratic, if not louche, collections provide Simon and me with much-needed vicarious outlets."


But of course the blindingly gleeful photographs are the best part. I swear you can spend half a lifetime poring over this tome, and each time you'll notice delightful new details. Even if you can't afford to transform your beaten down shack by the railroad track into the majestic amusement parks of gay splendor these guys have created, you can still be inspired to dot your decor with entertaining little vignettes that make your heart break out in the Macarena every time you walk through the room. And that, in a nutshell, is the essence of Anti-Depressive Living.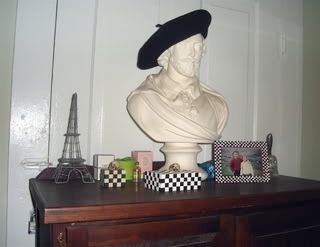 Shakespeare goes to Paris in the bathroom.
Frog and turtle play chess while little Buddha ogles the boobs of Venus.
Happy alligator careens through the cookie jars in his souped up sharkmobile.

Three virgins recline on the bed.

Lymphopo says, check it out.