I Was A Ninety-Pound Weakling
I hate not having my big beautiful muscles anymore. It's not all about vanity, though I'm certainly not in love with the way these scrawny little pipe cleaner arms look right now. What I really hate the most is being weak, too weak to be useful, too weak to be independent, too weak to do the things I really need to do.

For example. I got it into my head recently that I wanted to buy a bunch of concrete Virgin Marys and paint and decorate them to make them look like Frida all decked out in her various self-portraits. Fun little craft project! Besides, every tiny shack needs a bunch of colorful festive virgins lurking around in its corners. So I went to the little nursery in downtown Deep Inferno and purchased myself a 36" tall statue of the Blessed Mother With Sacred Heart, to be the first of my Fridas.

The guy at the nursery loaded her into my car for me, and you know, it never even occurred to me that I'd have trouble getting her out when I got home. Back in the day, which is to say exactly one year ago, I could have easily tossed her over my shoulder and toted her to hell and back without batting an eye. But now? I can't even budge her. Not one stupid inch.

So now I have this damn virgin lying supine on my back seat, her hands outstretched, eyes aglow, and heart bursting out of her flat little chest like an eighth grader on her very first car date.



Our Lady of the Back Seat

And she'll have to stay back there, riding around with me on my various errands, until next week when Mr. Oscar Lewis, my elderly yard helper, comes to clean the back fence. Mr. Oscar Lewis's claim to fame is that he doesn't catch poison ivy, so his services are much in demand around these parts. The evil stuff grows on my fence like kudzu, and I dread that the dogs will roll in it and bring it inside to me. Anyway, between the two of us, me and the elderly Mr. Oscar Lewis, we might be able to lug her into the kitchen so I can start painting.

So you see? This is why I wish to hell I could have this hideous port taken out, so I can start working out again and rebuild my strength. I could have done five or six virgins by now.

Ah well. Meanwhile, the multi-colored Crape Myrtles along my fence are starting to bloom, and in spite of the nonstop rain my poor little flower bed is blooming like crazy and finally starting to fill in. Until the hideous port is out, all I can do is focus on building inner strength. Too bad there's not a competition to see who can bench press the most bad-news biopsies, brutal bankruptcies, and bastardly boyfriends. I've always wanted to win a trophy.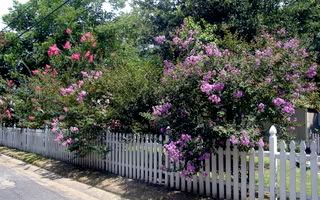 Crape Myrtles along fence



Poor little flower bed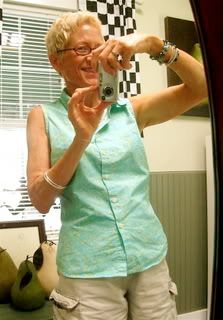 Pipe cleaner arms