It's Worse Than You Thought
Ok. I wasn't being entirely straight with you. It's not just the curtains and throw pillows plus the occasional t-shirt and concrete statue. It's a whole lot worse than that.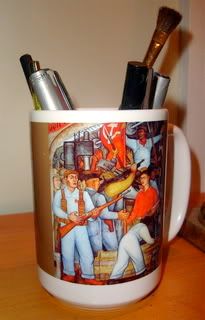 Frida distributes arms to the Communists on the desk.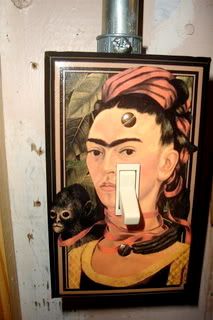 Frida illuminates the back porch.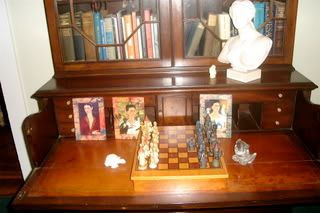 Frida watches the amphibians play chess.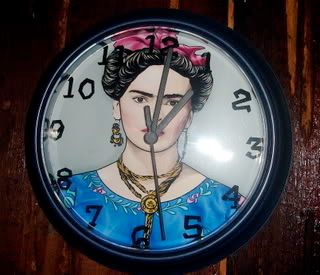 Frida flies with the time.
Along with Diego and Catarina, Frida juices the microwave.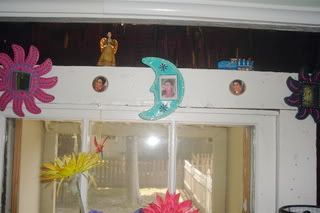 Frida frames the back yard.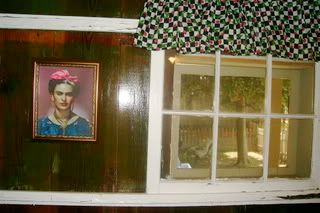 Frida competes with the view of a tree.

Frida carries the checkbook and a dog-eared underlined copy of Bandit: Dossier of a Dangerous Dog.


I suppose future generations of blog scholars will dedicate their lives to defending dissertations that purport to explain: Why Frida? Well, hell, if it enables them to make a decent living so they can support their own freaky tasteless habits, good for them.

But frankly, just between y'all and me? Don't make too much of it. Because the answer to Why Frida? is probably 90% Because she's every god damn where you turn these days. I mean come on, what are the odds of ever finding, say, Stevie Smith curtain fabric, or Flannery O'Connor drawer pulls, or Shelley Duval switch plates, or a B. Dagger Lee purse? We take what we can get over here at the Shack O'Deflated Tumors. And hello future blog historians! In the Year of Our Roomba 2007, the eBay it was flooded with the cool inexpensive Frida stuff. Simple as that.

Oops, one more:


Frida reacts to pain and betrayal by compulsively chopping off her own hair and documenting it in her art.