The Future's Looking Bright!
Tonight, Superman graduated from his obedience school egregia cum laude. I invite you all to please stand and join us in a rousing moment of song:

Gaudeamus igitur
Juvenes dum sumus
Post jucundum juventutem
Post molestam senectutem
Nos habebit humus.

(Let us rejoice therefore
While we are young.
After a pleasant youth
After a troublesome old age
The earth will have us.)




Pereat tristitia,
Pereant osores.
Pereat diabolus,
Quivis antiburschius
Atque irrisores.

(Let sadness perish!
Let haters perish!
Let the devil perish!
Let whoever is against our school
Who laughs at it, perish!)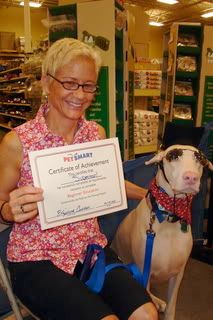 (Ahem. I certainly hope nobody here is laughing, especially not at that ridiculous mortarboard. Or you shall all perish in Latin.)

Anyway. On Wednsday night my brilliant Superman will begin graduate studies, pursuing his doctoral degree in clicker trick training. Stay tuned.


I study nuclear science
I love my classes
I got a crazy teacher, he wears dark glasses
Things are going great, and they're only getting better
I'm doing all right, getting good grades
The future's so bright, I gotta wear shades