Adventure At Home
Excuse me while I briefly interrupt your regularly scheduled Mexico vacation diary to bring you these snapshots of tonight's five mile canoe trip around the perimeter of Lake Martin in the dark. There's a new moon tonight so it was very dark, except for the stars and our head lamps and the light pollution from several nearby towns. And very quiet, except for the tree frogs, crickets, katydids, bullfrogs, night herons, and owls. Lots of alligators out, more than I've ever seen during the day. Their eyes light up freaky red when a head lamp hits them, but I wasn't able to get a photo.

I'm trying to incorporate more adventure into my post-vacation life, especially outdoorsy stuff like canoeing, hiking, and horseback riding.
My camera's not very good at night photography, but you get a vague idea of the scene: silent canoes gliding across dark glassy water, passing ghostly cypress trees draped with Spanish moss. It was astonishingly beautiful. (That's Noble, a grad student from Budapest, riding my stern.)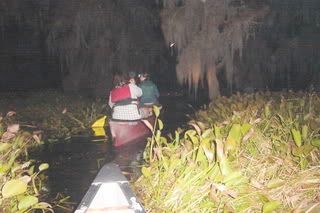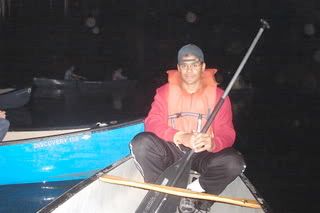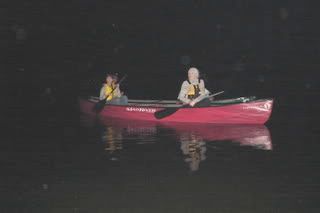 Thank you. Mexico will resume tomorrow.