The Monday Fuzz Report
Ok, we're rockin' along here with our regular Monday Fuzz Report. Except it's almost starting to look a little bit more like fur than like fuzz. Maybe?

Today's photos show the noggin exactly 2 months post chemo. Figure the first month all my energy went into purging toxins and just trying to stay ambulatory, so it's really only one month of serious hair growth. Who knew it would be so damn slow? It's not so much the length that's driving me nuts, but how slow it is to thicken up, to fill in the bare gaps and hide my shiny pink scalp. The straggling hair is almost as thin as my patience.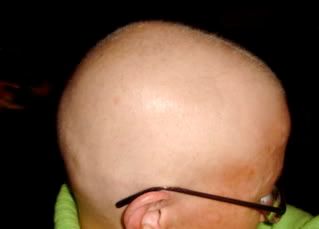 February 5th: one month ago.



Today: Still translucent.



Single swirl (It's scary how much I look like my father in this photo--when he was 80).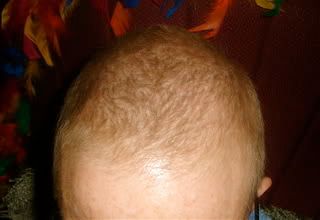 Wee little baby bangs!

My apologies for turning this into a nothing but hair all the time blog. But suddenly between the gym, the garden, long walks with the dogs, adventures with friends, and trying to keep my house supernaturally spotless for potential buyers and other gawkers, I seldom sit still at the computer any more. Which is just about the best possible news, I guess. But I promise there will soon be updates on working out and rehabilitating my damaged body, as well as porny garden photos if the roses start to pop before I move. Stay tuned!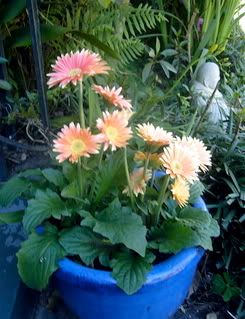 Lone blue pot impatiently waiting for spring.