Granny Gets A Six-Pack: Trainer to the Unlikely
Several readers have suggested that I start an online personal training service. This is an intriguing idea, since I can't go back to work at the gym until I have my hideous port removed and the damn hospital won't give me an appointment. But I'm not sure how the online training works.

I can see how the eating plan part works, but how does a trainer operate online when it comes to working out? Most of what I offered my flesh & blood clients as a certified personal trainer was real nitty gritty hands-on stuff: measuring bodyfat composition with a Futrex machine; visually evaluating their strength, flexibility, and range of motion; discovering their limitations and designing a plan that works around them; teaching them to lift with impeccably correct form; spotting them and showing them which muscles to fire; monitoring their progress and knowing when it's time to increase resistance; entertaining them with bad puns and stuff so they don't die of boredom during their sessions. All stuff that required me to be standing right there beside them.

For those of you who have engaged or researched online trainers, how the heck do they accomplish these things? Exactly what services do they offer? What sort of rates do they charge? How do you decide that they're a better choice than hiring a face-to-face trainer?

As many of you know, my personal motto is: I don't want to be skinny, I want to be STRONG! And this is the approach I take with clients as well. I believe the first step toward shedding unwanted fat is to increase your metabolism by adding beautiful sleek muscle tissue, and lots of it. No matter how old or young you are, it can be done. So I'm not the one to help a person whose goal is to become wispy, willowy, tiny and frail. I want my clients to grow strong and healthy and robust, full of energy and vitality. I don't believe in dieting, or starving, or depriving yourself of food pleasure. Life is way too short for that.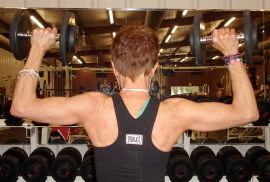 The author a year ago at age 52

Another of my personal mottos is: Maybe I can't eat everything I enjoy, but I can sure as hell enjoy everything I eat. I help clients design individualized eating plans that maximize muscle building, where every single calorie is nourishing and delicious. I spend time with my clients figuring out ways to avoid or eliminate mindless eating, those ubiquitous Pavlovian traps and triggers that cause them to gorge when they aren't even hungry, on stuff they don't really enjoy and that isn't the least bit good for them anyway. Everybody has different weak spots, and we work on finding them.

And I'm sure it comes as no surprise that I'm a total bust as a Nazi drill sergeant. Alas, I'm a big ol softie with my clients. When it comes to eating and working out, my approach comprises empathetic listening, paying close attention to details, offering exuberant cheerleading (or kind commiseration), and tons of positive reinforcement. I'm not a good choice for those who prefer a dominatrix in spandex. But I always got excellent results, and they came back for more.

So I don't know. Do y'all really think there's a market for this unconventional approach out there? Let me know if you have any ideas how this could possibly work. Thanks!