How Blessed Are The Poor?
"Poverty is the worst form of violence." Who said that? It was Ghandi, I think. Not Jesus. Jesus was the one who said, "Blessed are the poor." I just spent four hours of fruitless waiting in a sweltering smelly room overflowing with the poor, the sick, the injured, and the deeply discouraged over at Our Lady of the Damned this morning, so I think I'm going to go with Ghandi on this one.

So. Speaking of poverty and violence, as kind of an aside, there was this article in the local paper today about a 30 year old inmate who committed suicide in the parish jail over the weekend. He had indicated that he had been depressed, so they placed him on suicide watch in an isolation cell "for his own protection." But when nobody was looking he managed to strangle himself to death with his own trousers.

According to the paper, "it is unknown as to why [he] took his life." "The only thing we know that could have contributed is his mother died about six months ago," a spokesman for the sheriff's department said. Actually she died a couple of years ago, but whatever. He was sad.

But the paper goes on to say the unfortunate guy was arrested on May 8 on a bench warrant for failure to appear for arraignment on charges of littering, speeding, driving while license is suspended, no proof of insurance, expired motor vehicle inspection sticker and resisting arrest. His bond was set at $1,000, and officials said he only needed $135 in cash to bond out. However, according to the article, he "was remanded to the parish jail because he could not raise the money." And the next day he tied the leg of his pants around his throat and pulled it tight enough to shut off the oxygen to his brain; by the time they found his body, it was too late for CPR.

So wait. Here's a guy who could not raise the $135 he needed to get himself out of jail, nor did he have any friends or family who could or would, in a town where 90% of the people never go to jail anyway because they know how to get their tickets "fixed," and the cops are utterly mystified why he might have been extremely despondent? Sheeyit. Ask Ghandi, people, not Jesus. This kind of abject poverty does honest to god brutal violence to the spirit.

I wasn't born into poverty myself, but to paraphrase Malvolio, I've sure as hell managed to achieve it and/or have it thrust upon me this past year. Though I'm still probably able to raise $135 if I need to. Anyway. I just thought that little glimpse of poverty was kind of enlightening. Because I think about the nature of poverty a lot these days.

Moving on to happier news, I've accepted an offer to sell my house. It's for 20% less than I was asking and 30% less than the appraisal, but it's the best I could do. If everything goes well, I'll have to be out of here in two weeks. It's an awkward squeeze though because I won't know for sure until the very last minute whether the sale is actually going to go through, so I'll have to really scramble to hire a moving company and find myself a new place to live within days. I can't afford to move out before the deal closes, because until I have the house sale money in my hot little fist, I'll need every penny I have left for daily subsistence. I'm really down to the wire, and I can't be handing my meager savings for rent and hiring movers yet, in case it all falls through.

But at least I think I have a place to go, whenever the house closes. It's a little tiny "cottage" (and what is a cottage really but a glorified shack that got a nice coat of paint slapped on it?) here in town, and it's owned by an acquaintance. Nobody's living there now, and he's willing to be flexible with my unpredictable schedule and let me move in whenever. It's cheap, and most important, dogs are allowed. So it's probably where I'll end up.

It's kind of cute on the outside: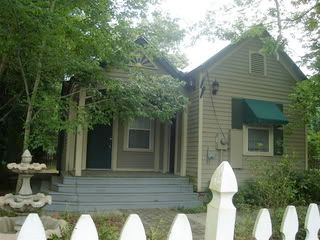 It has a front porch.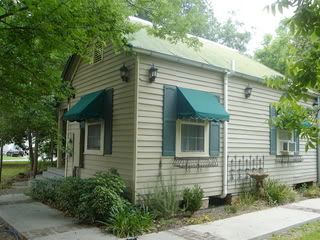 I can plant roses and stuff in this sunny little bed along the south side of the house.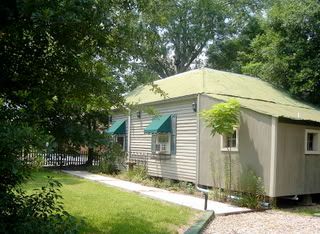 It's very old and originally there was no kitchen or bathroom. Here you can see that a little kitchen got tacked on to the back.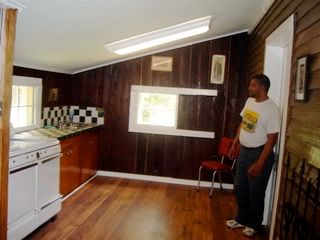 Here's the kitchen on the inside. There's no refrigerator, and that stove doesn't work: it's a gas stove, and there's no gas line to the house. I guess it's just there for decoration.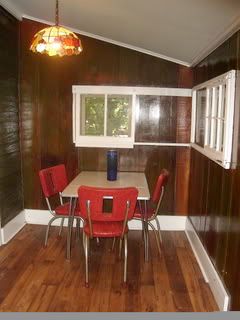 There's a little eating area down at the other end of the long narrow kitchen. The cool old sliding windows actually work, and have screens.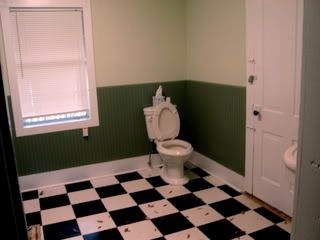 Instead of tacking on a bathroom like a lot of old houses, they converted one of the two bedrooms into an excessively large bathroom.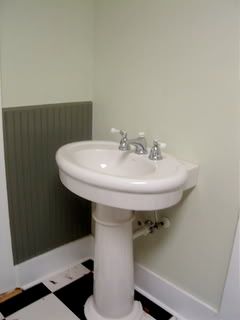 It's wild, the fixtures seem to just float around in all that empty space!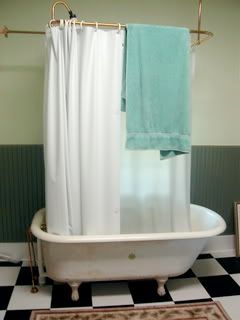 Lots of room! Maybe I can make this my office.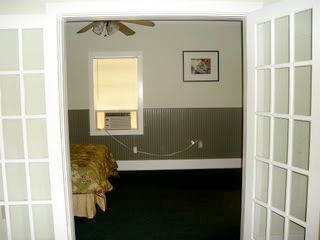 But what's big for a bathroom is cramped for a bedroom. The one remaining bedroom is very small and dark, cavelike with its low ceiling and half a window. There's barely going to be room for my queen size four poster bed, and there's no way to fit any bed in there without totally blocking at least one of the doors. This is unfortunate since the only air conditioning unit is in the bedroom, and with a door blocked, the cool air won't be able to circulate to the rest of the house.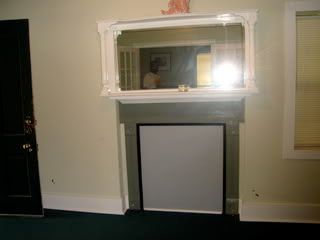 This is the small area that the front door opens into: I guess it's called the living room, though it's really more like a foyer. The house was moved here from its original site and the chimney was left behind, so that fireplace is a walled-up dud. I suppose this area is where a few chairs and bookcases will go, so maybe we'll call it the library. I'll probably do most of my "living" in the kitchen where there's more light.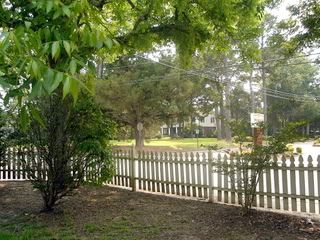 The neighborhood has a much higher crime rate than where I live now. There are several magnificent old mansions in the immediate area, including this kitty-cornered ante bellum beauty you can kind of see through the trees here (owned by a very cool lesbian couple). But there's also a rundown Section 8 apartment building next door, a funky little all-night pharmacy across the street that's always getting hit by desperate junkies, and the train tracks (both the literal and the proverbial tracks, as in "the wrong side of") are about 50 feet away.

So that's it. 550 square feet. There's no stove, no refrigerator, no laundry hookups, no heat, and not one single closet. I'm not even sure it's legal to call that a house. But it's where I'll be calling home if this sale goes through. And I'm going to do my damnedest to make it a good one.

I'm hoping it's just going to be a temporary stopover anyway, a few months, maybe a year. Once I figure out how much money, if any, I have left after I pay off my astronomical medical debts, and if my scans in July still show no evidence of cancer, then I can decide what to do next. Maybe I'll travel, pack up the dogs and go have some adventures in that treehouse on Bainbridge Island, or the beach house in Florida. Maybe I'll find a tiny place around here that I can afford to buy, or a lot where I can afford to build something tiny. Maybe a cute little Katrina Cottage. But maybe this shack is where I'm doomed to spend the rest of my days.

At any rate, I can assure y'all of one thing: if things ever get so bad that I can't raise the $135 I need to bail myself out of jail, I promise I'll put a damn PayPal button on this blog before I hang myself with a pair of knickers. Until then, I'm going to join the vast majority of the world's impoverished population and do my damnedest to make it work.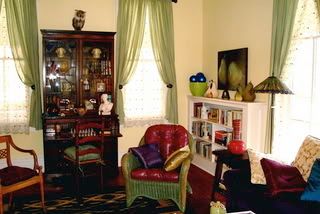 This is my current living room. How much of my stuff will fit in the new shack? Stay tuned to find out!