Busted By Murphy's Law Again
So, terrible news. There's been a little glitch in the house sale. Because it's very old (1912) with knob and tube wiring and the roof will need to be replaced in the next five years, the potential buyers are unable to find anyone who will insure it unless it's rewired and reroofed. And without insurance, the bank won't give them their loan, and they can't buy the house. This is a pretty serious glitch, because since I can't afford to pay for the work, it means nobody else will be able to buy the house at any reasonable price either. I'm totally screwed.

I had absolutely no trouble finding homeowner's coverage when I bought it seven years ago, but three major hurricanes later, squeamish insurance companies have clamped their sphincters shut with the violence of a stainless steel long-spring bear trap. It's harder and harder to have houses insured around here, especially older houses. In a way, I may have indirectly lost my house to Katrina, yet there's no way in hell I can qualify for a FEMA trailer. Shit: me and my house, both uninsurable wrecks that fell through the cracks.

Anyway, my intrepid friend and realtor Marla is furiously exploring all possible options. Meanwhile, with the house sale put off indefinitely, I find myself in dire financial straits. So I broke down and put a PayPal button on the side bar. This was a really hard thing for me to do (and not just because I have pathetic chemo brain dementia and couldn't for the life of me find the instructions for installing the damn button in the template and finally had to call on my sons for help).

I sincerely hope nobody feels offended or pressured or resentful, or in any way put upon by the presence of the donate button. I would much rather earn money than beg for it, so if anybody knows anybody who might pay a decent wage for writing cancer humor or whatever, please send them my way. Meanwhile, my heartfelt thanks to those who have already helped, and to those who can. This was a last resort, but I just need to do whatever it takes to get myself through this series of disasters with my remaining shreds of sanity intact. So that maybe someday the take-home lesson for everybody will be: See? You can survive your very worst nightmares and come through ok!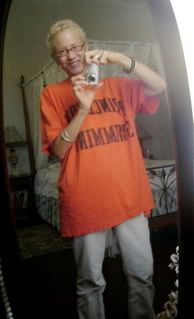 The author, trapped in the stainless steel sphincter of the insurance industry.