The Noble Truth of Impermanence
Did you ever read that wonderful story called "Tear Water Tea," from the Owl At Home book by Arnold Lobel? In order to fix himself a cup of tearwater tea, Owl has to force himself think of sad things so he can cry enough tears to fill the teapot. A champion anthropomorphizer, he thinks of such heart rending tragedies as books that can't be read because some of the pages were torn out, mashed potatoes left on a plate because no one wanted to eat them, mornings that nobody saw because everybody was sleeping. Next thing you know the pot is full of tears. It's a wonderful little fable.

If I ever wanted to make myself some tearwater tea, I have three personal triggers that are absolutely guaranteed to make me weep big salty tears by merely thinking about them: saying goodbye to my sons at the airport; the Abraham Lincoln Brigade; and old dogs.

Excuse me a moment, I can barely see to type. [snffle]

Anyway, the subject of old dogs has been on my mind a lot lately, because my beloved Dixie Rae is noticeably getting on up there. Since she's a rescue dog--I adopted her from a rescue group that took her in when somebody found her abandoned in a dumpster--I'm not sure of her exact age. I'd guess it's somewhere between 12 and 15. She's 98% deaf, her eyes are starting to cloud over, she has arthritis in her hips, and there's only one molar left in her head so her tongue dangles out of the side of her mouth most of the time, collecting all kinds of lint and cat hairs and other disgusting schmutz. But she's still the most cheerful, loyal, intelligent, and shamelessly horny dog I've ever known. In spite of the arthritis, she still manages to spend several hours a day vigorously humping Mr. Bingles, her long-suffering teddy bear.

Yesterday my idol B. Dagger Lee wrote the most touching comment over at Twisty's on the subject of older dogs and their inevitable ailments, in response to a post about Twisty's 13 year old Zippy who has just undergone emergency surgery for an extremely dangerous condition called gastric torsion. Reading about poor Zippy, and then this BDL comment just about did me in. B. Dagger Lee said:


"As I've been saying to Miss Patsy for the last three years as her ancient poodle tramps over us all night long and pees on his feet: After 12 years, every day is frosting and gravy my dear, frosting and gravy."


Indeed. So before I drown myself in tear water tea, I 'd like to dedicate today to a celebration of my beautiful Dixie Rae, and all old dogs everywhere. Do y'all want lemon or kleenex with your gravy and tea?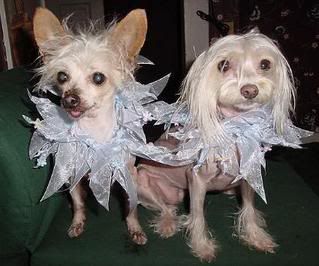 Dixie Rae (left) with her loyal companion Dolly Louise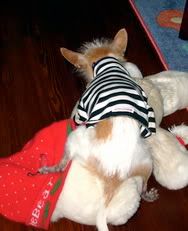 Dixie Rae enthusiastically humping the ever-compliant Mr. Bingles.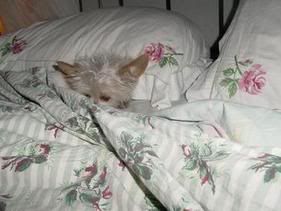 Dixie Rae's life is a bed of roses.



Dixie (left) and Dolly (right)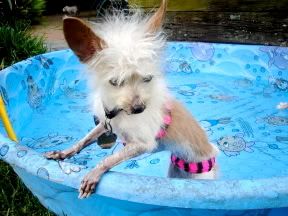 Bathing beauty shows off her girlish figure in a hot pink bikini



The Mona Dixie Smile captured by the artist in residence



Dixie Rae shaved her head in solidarity during my chemo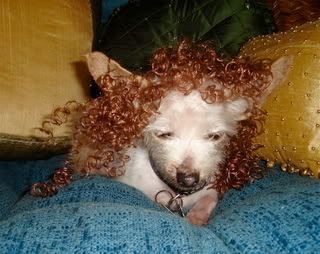 Dixie Rae even wore an embarrassing wig in solidarity during chemo.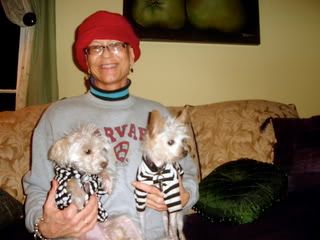 Dolly (left) and Dixie (right) gave me lots of moral support when I was sick.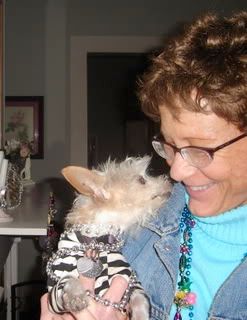 Dixie Rae makes sure it's really me under that stupid wig.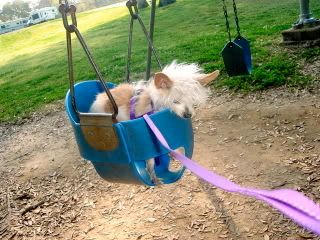 Dixie Rae swings!



Dixie Rae sports some serious PRODUCT!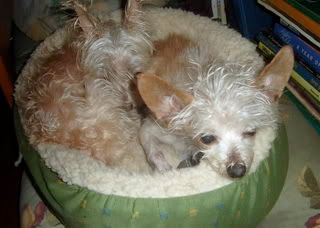 Dixie Rae and Dolly Louise curled up patiently at my feet as I write this post today.