Some Rambly Thoughts On Helpy-Helpertons
A couple of weeks ago I wrote about some of the problems I have with people offering me unsolicited advice:

For one thing, giving advice always puts the giver in a one-up position, as the wise one who Knows The Answer. It simultaneously puts the givee in a one-down position, as the dumb ignoramus who never thought of the obvious. When I was feeling lonely and adrift, this split always made me feel even lonelier, and it pissed me off as well. Also, this kind of advice pinpoints the problem squarely inside of me, rather than in the world outside. It says that I am the problem, I am the defective one, I am the one failing, I am the one who is not coping properly, who is broken and needs to be fixed. Whether there's any truth to it or not, I just never found this implication to be at all helpful or comforting in times of dire distress.

As is often the case when I've been thinking about a particular subject, it suddenly seems to crop up everywhere. In the past two weeks, several of my favorite bloggers had posts about their own issues around the drawbacks of unsolicited advice. In a recent post about some improvements in his condition, brainhell wrote (emphasis mine):

before you start offering me opportunities to further expand my 'recovery,' -- even start my NBA career -- stop. don't. this could be a blip, or due to the weather. i don't need the stress of declining hopeful suggestions. if i improve, i will let you know. don't push.

And in a post over at Twinkle Little Star titled Defensive Parenting, Lisa (a mother of twins who is legally blind and hearing impaired, and whose partner is quadriplegic) wrote (again, as usual, emphasis is mine all mine):

I have heard other blind and disabled moms tell stories about people saying rude things to them on the street when they were visibly pregnant. You sometimes do not get much in the way of congratulations when you become a disabled parent. Many people mainly look shocked and concerned. Or they look at you as if you are a immature little 15 year old high school girl who just got knocked up in the back seat of her boyfriend's because she didn't think you could get pregnant your first time. They make comments like "Well, how are you gonna do this or that?" as if you had never given the matter any thought before and you just up and forgot you were disabled. You are looked upon as unwise, irresponsible, selfish, and incapable.

Yeah. What they said, which is exactly what I was trying to say, only better. An assumption of incompetence and ignorance is condescending and hurtful; and being forced into the position of declining unasked for advice adds stress while draining and deflecting already scarce coping energy. In the classic support-groupy way, I feel greatly relieved and validated when I read that other people share my reaction: whew, it's not just me being a big whiny bitchy self-centered ingrate. Others feel this way too sometimes.

Anyway, as time passed, the great river of blogular synchronicity continued to flow on by, and lo & behold there was more! Yesterday, in the lively discussion following one of Twisty's most brilliant and revolutionary posts, commenters LMYC and Lisa (yes! small world, it's the very same Lisa) talked about disability rights activist Norman Kunc (pronounced "Koontz"). I clicked on a helpful link and next thing I knew I was inhaling a spot-on, right-up-my-alley article by Norman Kunc & Emma Van der Klift titled "HELL-BENT ON HELPING: Benevolence, Friendship, and the Politics of Help."

Ah, the politics of help. Every bit as tricky as the politics of advice. I was thrilled that these authors clearly articulated a lot of my very own blurry angst regarding the whole "helper/helpee" dynamic:

Let's "begin at the beginning", and examine what help means to all of us. In most societies today, helping others is viewed as a socially admirable course of action. Those of us who are in a so-called "privileged position" are asked to give to others. We know we should give to our families, our communities, and most of all, to those "less fortunate" than ourselves. Yet, why is it that most of us, while perfectly comfortable offering help, are decidedly uncomfortable receiving it?

The answer to this question is at once relatively simple and enormously complex. Consider the contrasting perceptions regarding the giving and receiving of help as presented in Table 1. As Table 1 illustrates, although our society associates a host of positive attributes to help, these attributes clearly are reserved for the "helper."


Here I will spare myself the agony of attempting to devise the dreaded table in HTML, and simply summarize the damn thing. In the column headed "Why Do We Like Offering Help" we see that it: affirms our capacity, affirms our worth, affirms our superiority, masks our vulnerability, and causes us to be owed by the helpee. In the column headed "Why Do We Dislike Receiving Help" we see that it: implies deficiency, implies burden, implies inferiority, reminds us of our vulnerability, and obligates us to the helper.

Now back to the article. Kunc and Van der Klift go on to say (and I of course own the bold):

Is it the need for help itself that causes us to feel this way, or is it the kind of help we expect to get? Those who have closely examined this issue believe that the problem lies primarily with the lack of self-determination commonly experienced by "helpees". It seems that often dignity must be forfeited in order to receive help. The power to decide where and when help should take place, who should help us, and whether in fact help is needed is stripped away.

People with disabilities sometimes do need help. However, if they are uncomfortable receiving it, as most of us are, they are left in a classic "no win" position of either doing without help or enduring the underlying demeaning messages. Furthermore, it is almost impossible to confront the issue directly. If the helper's motives are questioned, the inevitable response is an indignant or sorrowful "I was only trying to help." Consequently, for many people with disabilities, help is a "four-letter word."

Help outside the context of choice and self- determination is disrespectful. We all want to feel necessary. However, when our desire to feel needed is at the expense of someone else's sense of competence and autonomy, we commit a lasting act of injustice. People with disabilities literally spend lifetimes struggling to be heard. We must learn to listen. As Marsha Saxton (1985) wrote;

All of those people trying so hard to help me...All of them hoping for me to ... do well, all wanting to be kind and useful, all feeling how important helping me was. Yet never did anyone of them ask me what it was like for me. They never asked me what I wanted for myself. They never asked me if I wanted their help. ...I do not feel entirely grateful. I feel, instead, a remote anger stored beneath my coping pattern of complacent understanding. People do the best they can to help in meaningful ways, I know. I just wish all the disabled children would say to their helpers: "Before you do anything else, just listen to me."

We must listen to both the verbal and non-verbal messages expressed by someone who may or may not want help. We must use this information to guide our actions and increase our sensitivity. It doesn't sound like much, but the ramifications are enormous. It is often during times that we are hell-bent on helping that we listen least well. We all know stories about people with visual impairments being forcibly "escorted" over crosswalks by well-meaning pedestrians, of people in nursing homes being fed when they are not hungry, of what the participants in the Dembo study aptly called "unexpected attacks" of help.

You know, I've always felt guilty when I've reacted with ingratitude and resentment to people who were "hell-bent on helping." But after reading this article, I am better able to understand why.

Here's a real-life example. A few days ago a person I know was talking to me about how he'd been helping a recently disabled friend by building handrails and running errands. He mentioned that the helpee had asked how much was owed for this work, but he had magnanimously declined to accept payment. And yet, he confessed, he was now feeling resentful and taken advantage of because the helpee "hadn't been insistent enough on paying." He said the helpee had thanked him several times for being such a good friend, but he now felt that this "wasn't enough gratitude."

Ayiiiii!!! My blood runs cold at the very thought of this toxic passive-aggressive martyrdom shit. All the hidden agendas, the secret trap doors, the tangled knot of attached strings, the invisible price tags! How much do I owe you for helping me? Oh, nothing! But the truth so often is, in the famous words of J. P. Morgan: If you have to ask, you can't afford it.



A "helpful" pitcher plant on my back porch generously offers sweet nectar to the hungry flying insects in my neighborhood.

This lesson was driven home to me the very next day when the same person offered to do some minor repairs to my house. Midway through the project it became clear that because he was "busting his butt doing me a favor" he felt entitled to rudely order me around, bark commands at me, harshly criticize me for not doing things exactly as he wanted, and forbid me to take food and bathroom breaks when I desperately needed them. I had agreed beforehand to pay for the materials and assist a little here and there when needed, but he had neglected to inform me that I would also be expected to pay for the favor by humbly allowing him to completely commandeer my time and attention at his whim for the duration and abuse me like a slave. Oh and and of course I was supposed to be eternally grateful for the privilege. Sheesh. You bet that's the last time I'm going to accept "help" and "friendship" from that person.

But the sad thing is, a bad experience like this also makes me reluctant to accept help from anyone. Sure, maybe this was an exception, maybe he was only having himself a bad jerkitudinal day, or inflicting his own rare personality disorder, or some atypical thing. Maybe it has nothing at all to do with the intrinsic imbalances of the helper-helpee dynamic. But then again maybe this situation was just a grotesque amplification of the very pitfalls--what Kunc and Van der Klift call "the underlying demeaning messages," the forfeiture of dignity and self-determination, the boundless debt of gratitude--that always exist in such relationships but are usually more tactfully sugar-coated and concealed.

I'm sorry I don't have any magic answers on how to gracefully and effectively give and receive help. Obviously it's a hugely complex issue and I'm still in the midst of grappling with it myself.

Though I'm not up against the cancer itself at the moment, I am still staggering and reeling with its aftereffects: debilitating fatigue and neuropathic pain caused by extensive nerve damage; ongoing depression and anxiety; frustrating attempts to deal with an unresponsive and inadequate public health care system; and a severe financial crisis entailing the loss of my home, income, life savings, and any future eligibility for affordable health insurance. And of course the constant terror that the cancer is going to come back at any moment.

This shit is enough to make anybody drift up to the high-altitude nosebleed seats on the Holmes-Rahe Life Event-Stress Scale, you know? I could probably use a little genuine help right about now. But it's exactly as Kunc and Van der Klift said: "People with disabilities sometimes do need help. However, if they are uncomfortable receiving it, as most of us are, they are left in a classic "no win" position of either doing without help or enduring the underlying demeaning messages."

So I'm struggling along, caught between the proverbial rock and hard place. And honestly, at this point, the most helpful thing anybody can possibly do is just listen and read and reread, as many times as it takes to genuinely understand the whole hideous dilemma. Thank you all.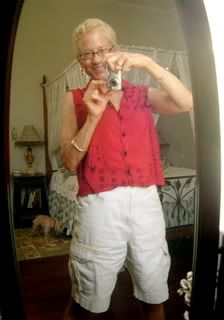 The author grapples and rambles while displaying an impressive head of newly sprouted hair.