Important Announcements
Good morning, Blogistan! Hope you all had a great weekend. I have several exciting announcements to make, in no particular order.

Let's see, I'll start with the grand opening of the Deep Inferno Trading Post. I have joined the Amazon.com Associates affiliate marketing program. This means that if you click over to my little emporium and buy something I recommend from Amazon.com, I can earn up to 10% in referral fees. My brilliant geeky son helped me set it up, built me a lovely front end, and voila: Ye Olde Book & DVD & Music Shoppe is ready to go!

There are many books, including a few cancer books, some juicy Louisiana fiction, and other good stuff that was fascinating enough to hold my microscopic attention span over the course of the last grueling year. Also a bunch of my favorite movies, and an entire section of Louisiana music. So check it out, browse around, and if you find something that intrigues you enough to make a purchase, you will be my best friend for life.

And then taking another baby step into the wonderful world of generating some income, I have started writing for a new web site called As We Are Magazine. So go check that out. The founder of As We Are, Trudi Evans, is a regular reader here, and she kindly invited me to start a new blog over there. I like her philosophy: "This magazine is dedicated to providing women with a forum to speak out and speak up. It is founded on the belief that we are good enough, as we are. Our hips don't need to shrink, our clothes don't need to look better, and we don't need a tan to improve the world. Here, we can analyze, empathize, and inspire true change in our societies."

So I decided to restart my old Granny Gets A Vibrator blog, running with the theme of "Middle-Aged Woman Bumbles Outside Her Comfort Zone; Hilarity Ensues." I'll be posting at least twice a week, running some old stuff, adding some new stuff, and seeing where it takes me. I'm suddenly really looking forward to writing that has nothing to do with cancer. Moving on!

I've also sold a few blog pieces to a health care web site, and I've been interviewed by a magazine that's doing a feature on cancer blogging, which might bring me some more helpful publishing contacts.

And I'm in the process of setting up an online personal trainer business, which will be called "Granny Gets A Six-Pack." I'll let you all know the very minute it's ready to go, probably in the next week or two.

Finally, there's a second tentative offer on the house. This one could fall through too, of course, but this time the buyers are fully aware of the wiring and roofing issues and insurance-fu right up front, and they made the offer "as is." So please keep your fingers crossed.

In other news, I got the key to my new shack over the weekend, and I've already planted a new garden. I'll be moving in a couple of weeks. It's been empty for several years, and it's filthy. I spent all day yesterday cleaning the kitchen: sweeping out truckloads of dead roaches, spider webs, and mouse droppings, then getting down on my lily white knees to scrub the floor with disinfectant. If I have time today, I'll start tackling the bathroom.

But in spite of the funk & filth, the place has a very cheery feel to it. The neighborhood is fabulous, and yesterday four people dropped by to welcome me to the hood. I love the sounds: rain on the tin roof, kids playing basketball in the vacant lot next door, and of course the trains. Every time a train goes roaring by I get all excited and run outside to watch, though I suppose that will probably wear off soon. But I don't know, I'm thinking I might become a serious train watcher. (One of my favorite movies ever, which you too can own, is The Station Agent.) I've been a circus train fanatic for 15 years, and the circus is coming to this neck of the woods in June, so I'm gearing up for some passion in that department. All in all, the new shack is looking very promising.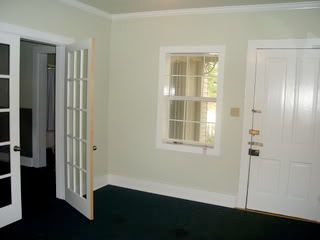 I think my desk is going to go in this corner, because I love to stare out the window when I'm supposed to be working.

Anyway. Between all these exciting new developments and the very kind generous donations readers made through my PayPal button, I'm feeling extremely optimistic for the first time in ages. Optimistic and happy. Wow, happiness: something I'd completely forgotten the meaning of. Finally, it's back! Thank you all!