Before & After
Actual moving day, the one that entails a very large van and a merry crew of able-bodied bonded & insured movers who whistle while they work and know the names of good chiropractors, will be sometime the week of June 11th. But meanwhile I've been going over to the shack several times every day, taking loads of stuff that will fit in my car. Smallish things like lamps and paintings and boxes of knickknacks.

This saves me the trouble of having to deal with bubble wrap and special moving boxes designed for fragile items. It's only 14 blocks from house to shack, and I can just pile stuff on the back seat without wrapping, as long as I avoid potholes. Anyway, I find myself constantly yearning to be over there and making all these little trips is just an excuse to go.

There's no real furniture yet but I've already stocked the shack with an electric tea kettle, a boom box, a roll of toilet paper, and a comfy lawn chair. What else does a body need to be happy?

I spent a few lovely hours over there today enjoying a good book, watching the trains go by, and listening to my favorite Sunday morning zydeco show on the radio. Also puttering in the garden, hanging curtains, and putting pictures on the walls. It's starting to feel more and more like home.

Behold the progress with your very own eyes: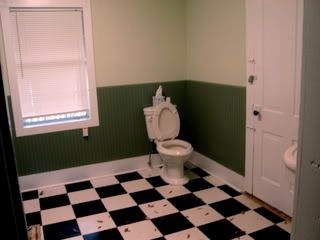 Bathroom: Before. Note dead roaches all over the floor. Welcome to Louisiana!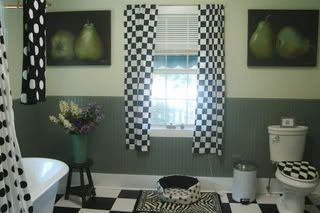 Bathroom: After. Lysol is our friend. Once sanitation was achieved, we began to strive for that ever-popular decor trend, the elusive perfect blend of Paris Apartment meets NASCAR Event. There will eventually be two dressers and an armoire squeezed in here somewhere.



Behind that striped curtain on the left is a cleverly disguised makeshift broom closet, a place to invisibly store mops, brooms, swiffers, the vacuum cleaner, and other unsightly cleaning supplies. It's like living on a houseboat, or an Airstream. Or in a tiny little shack with zero closets. Every square inch must be put to use.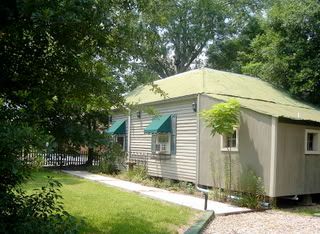 Flower bed: Before. Nothing but weeds and hard dried clay.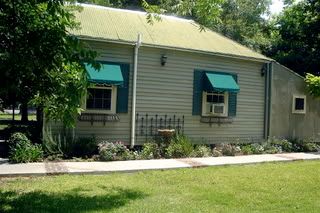 Flower bed: After. Can you even see the damn plants in this shot? They're still quite small, but so far they're thriving, and adding much-needed color to the barren landscape. The new plants should fill in and up over the next few weeks, forming a lush riotous Thomas Kinkadesque fantasy border. Unless I forget to water.



The long narrow flower bed is protected by the Greek god Pan, that horny cloven deity from whom we acquired the words panic, pandemonium, and possibly pancake makeup. Whether he keeps these qualities away from the shack or shepherds them in remains to be seen. Stay tuned and find out!