Granny Gets A Boyfriend
Another big announcement already! Stop me if this just way too much excitement for you to handle.

Ok, now this is a big one, so you should probably turn on your mental drumrolls and fanfare sound effects: I'm about to get myself a brand new boyfriend. I'm going to adopt a male Doberman from the regional rescue society!

The reason for adopting from rescue rather than directly from a shelter is that they will carefully evaluate the dog's temperament. Obviously I can't risk taking in a big muscular male dog with a strong prey instinct that's going to be triggered by tiny dancing fluffballs. So I need to adopt from experienced dog savvy people who have lived and worked with the dog and know how he reacts to different situations.

Dobes are one of the Misunderstood Breeds. Many people assume they're all vicious killers. While it's true that they tend to be shrewdly intelligent, fiercely loyal, and highly protective of their person and home, they also tend to be great big doofussy love bugs and high-powered kissing machines. And I'm going to be sure that my new boyfriend is as doofussy, kissy, and love buggousy as possible. At the same time, I'm going to let that Misundertoodness work in my favor: who the hell in their right mind is going to mess with me or my shack with one of these magnificent creatures standing guard?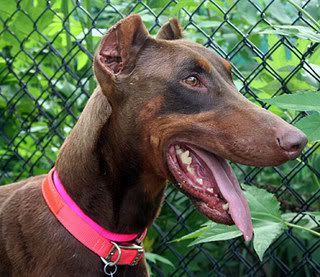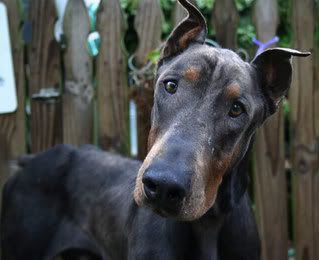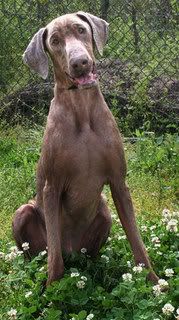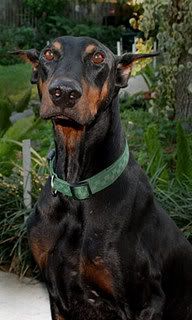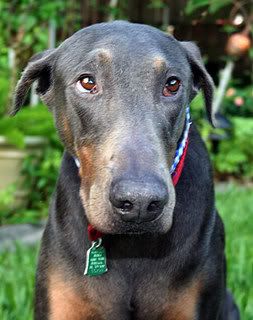 Aren't they beautiful? I had a heck of a time choosing one, so I let the rescue folks pick the one they thought would be a good match. The first one they selected for me is that last one, the beautiful albino guy. His foster mom is going to spend the next few days exposing him to as many small dogs as possible, to make absolutely sure he doesn't have an aggression problem with them. If it turns out he's not right for my situation, then we'll try one of the others.

A lot of these dogs are Katrina casualties who ended up homeless and wandering the streets after the storm, many of them extremely sick and emaciated. They owe their lives to the rescue angels. Many of them still have ongoing health issues. Albinos in particular tend to have a lot of health problems, and especially being susceptible to skin cancer they're not long lived. This might keep other potential adopters away, but not me. Health Issues R Us here at the Shack O' Second Chances! And we are all about the compassion for our fellow issuites.

So I'll keep y'all posted on the new boyfriend front, as developments develop. Keep your fingers crossed. And meanwhile, please support the animal rescue organization of your choice.



"The greatness of a nation and its moral progress can be judged by the way its animals are treated." -Mahatma Gandhi

P.S.: Did it occur to you that committing to a new dog is an indication that on a very very deep level I now believe that I'm going to live for a while longer? Well, it occurred to me!