My Day At The Prom
So I spent the morning over at Our Lady of the Damned today, my first appointment at the oncology clinic since early February. This was just a routine follow-up thing, the kind that cancer patients with private health insurance do every two or three months. Over at Damned General, they only manage to squeeze us in every six months. Whether we're still alive or not.

What a flashback! Ah, that old familiar three hour wait in the crowded room full of people coughing up their lungs. I opted to wait outside in the hot midday sun when I overheard the guy next to me tell somebody on his cell phone that they're testing him for TB.

When they finally called my name, I was happy to see that they'd assigned me to my favorite resident, the really smart one who actually sits down and talks to me and listens to me, who remembers my name and laughs at my jokes. He walked in the room and stopped dead in his tracks, and just stood there gaping at my new blonde hair and my big healthy smile. Speechless! And then he burst into this huge grin and just shook his head back and forth in wonder. And then for the longest time, all he could manage to say was, "WOW."

Shit, I think the last time a guy looked at me like that was when Michael O'Brady picked me up for the junior prom in 1971 and I was wearing that dress that almost got me kicked out of school.

Anyway. We he was finally coherent, we had a talk about maintenance Rituxan. He said I was supposed to start it next week, but I reached in my purse and whipped out a sheaf of recent studies published in the Journal of Clinical Oncology indicating that maintenance Rituxan provides no benefit after R-CHOP in patients with high-grade lymphoma. No benefit, and there are potentially gnarly side effects.

He gave me the same look the guys at the gym used to give me whenever I bench pressed two Volkswagens, one in each hand, and said, "Ooohh-kay. Let me go talk to my boss." And when he came back a minute later he stuck a gold star on my forehead and wryly told me I got an A+ in advanced oncology for the semester. "Aw shucks," I said modestly. "I only have ONE disease to learn about. Y'all have millions."

Then he announced I will have my second post-chemo CT scan in August (private insurance patients have PET scans at least every three months but oh well). I spent another three minutes listing sound medical reasons, complete with references and footnotes, why I should have my hideous port taken out asap, because it turns out that only an oncologist can approve port removal. The cute surgeon who approved it in May didn't seem to know that.

And then we said good-bye, the nice young resident and I. "I'll probably never see you again," he said, "because like you, I'm graduating and moving on." So we shook hands and congratulated each other and wished each other long bright shiny futures. As he was walking out he suddenly stopped and turned around and smiled at me. "You know," he said, "this line of work can be incredibly depressing and discouraging sometimes. But when I walk in here and see how you look today, compared to how you looked a few months ago, that's the big payoff. It makes everything worth it."

So I left beaming, feeling all squishy and sappy inside, though also slightly guilty when I passed the sad sick chemo people waiting in line in the hall. It felt unseemly to be beaming that hard in front of them, because I remember so well what it was like to be them. Anyway, I know this was just an eyeball assessment, and the real test of how healthy I am will be the CT scan in August. But still. I think I made his day, and he sure as hell made mine. Whatever shows up in August, I feel good today, and I feel happy. And maybe, just maybe, if my young man is true to his word, I'm finally going to have this hideous fucking @#$!*&$ port taken out, SOON.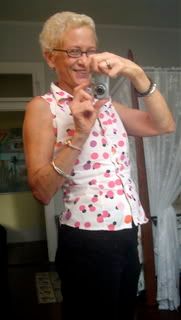 The author decked out in her snazzy prom attire du jour.