While Greasy Lymphopo Doth Keel the Pot
Gumbo weather has finally arrived in south Louisiana! This means the night temperatures are starting to drop below 50 degrees, and daytime highs are not going much above 70, for a few days this week anyway, and genuine winter is not far behind. It also means means you can't get within a hundred feet of a damn grocery store around here because tout le monde is out jamming the aisles, stocking up on gumbo essentials like andouille, okra, and roux. I, of course, am NOT making a gumbo because as you'll recall one of the dubious perks of my charming little shack is that it has no stove. And what the hell kind of a gumbo could you make in a microwave?

Anyway, while you're pondering my shocking deprivation of modern appliances, you may also recall that there is no heat here at Chez Le Chaque. No wall furnace, no floor furnace, no radiant heat, no oven, no fireplace, nada. No heat. And yea verily, winter is nigh upon us, so me I am getting my glacier-white ass ready for the inevitable doom. Just as I've managed to beat the odds and survive lo these many moons without a stove or laundry facilities, I'm also determined to survive this long frigid winter without a furnace. Just watch me.

In fact, the whole hideous challenge has become something of a fascinating new hobby for me. For one thing, I have developed a consuming obsession with snow camping. I spend my free hours perusing web sites and blogs about arctic expeditions. I am particularly intrigued by the haute couture of the subzero outdoor set, at least those idiots who survived their elective polar ordeals.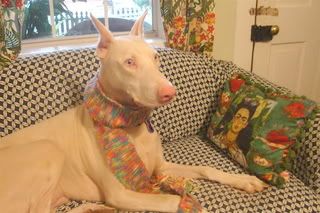 Polar bear with bad aim girds his loins for winter.

The number one secret to comfortable survival, I have learned, is the high-tech super-light insulating base layer. So I have suddenly become the world's leading expert on such miracle textiles as ThermaSilk, Arctex, SmartWool, LIFA, Capilene, ChillTech, Synchilla, and Polar-Therm. I know all about interlocking polypropylenes, moisture-wicking fabrics, compressibility, high-pile insulation, and welded-seam technology. I am learning how to stay warm without looking like the Michelin Man.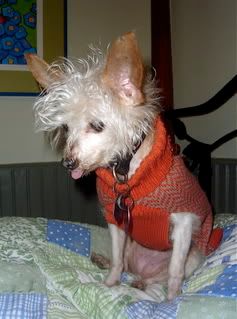 Slender model basks in the warmth of a flattering orange base layer.

Now my next project, when I come home from Mexico, will be weather-stripping, caulking, and patching the all the charming rustic cracks in the shack, in an effort to keep the cold air outside where it belongs. I've already devised a nifty, cheap method of insulating the small kitchen windows with bubble wrap. But this will make the tiny rooms darker than they already are, so I'll be looking into light boxes and dawn simulators. I'll also be researching the most efficient and safe brands of electric space heaters.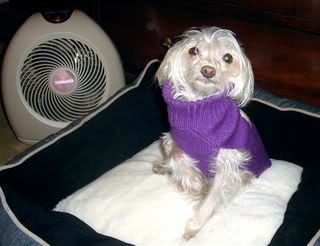 This super-efficient little Vornado space heater turns one tiny corner of Le Chaque Miniscule into a tropical cabana.

Wish us luck! And if you yourself have ever survived a cold dark damp glacial winter in a shack without heat, I'd appreciate any survival advice you'd like to pass on.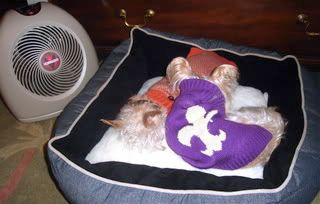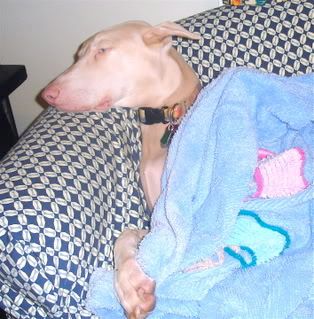 Labels: poverty