It's A Bird, It's A Plane...
I drove over to Baton Rouge this morning and met my new boyfriend. His foster mom brought him to the PetSmart, and I brought my little dogs so we could see how they reacted to each other.

When they first met they cautiously sniffed each other in the appropriate manner and milled around a little checking things out. As soon as they were convinced that nothing was untoward, they quickly lost interest in each other. The foster mom and I stood in the Kong ailse and talked and observed, and pretty soon a small crowd had gathered around. Women were emitting high-pitched coos at the cute little doglets, imagining how fancy they'd look riding around in an Hermes bag, while men were admiring the big guy with intese and overt testosterone envy, as if he were some big expensive penis extension they'd be proud to wag around the streets of their hood.

All three dogs exhibited excellent social skills and tactful restraint, politely ignoring the embarrassing onlookers. We watched as a few other dogs approached the big guy, including a tiny 3-week old Jack Russell that definitely should NOT be out in public since she was too young for her Parvo shots. Arg. But it was helpful because she tried to clamber all over the big man's ankles, which had to be annoying, and he just looked the other way. Good boy! I was totally impressed with his tolerant manners.

So we all passed our tests with flying colors, and I'll be bringing him home the week of the 17th, once I'm all settled into the shack and have the fence secured. Yay!!!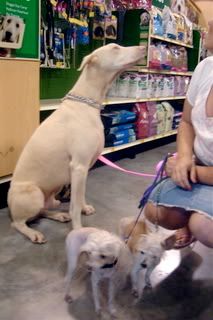 His name is Superman. Here he is being a perfect gentleman, ignoring the ditzy little rug rats with that typical Doberman aloof dignity. He spent Katrina all alone, chained up to a basketball goal in the 9th Ward. After the storm was over but before the levees broke, some kind neighbors untied him and took him with them when they evacuated to safety in Alabama. His original owners were fianlly located, but they no longer wanted him. So Superman ended up with the Doberman rescue group, waiting for me to come fall in love him.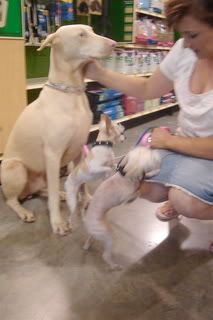 Yes, of course I wore black pants, and yes, of course he leaned against me like Dobies do when they like somebody. Tip of the day: Rush out immediately and buy shares in the Pet Hair Pic-Up Adhesive Roller Company; over the next few weeks, their stock is guaranteed to soar.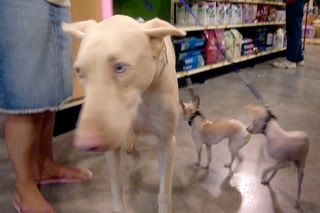 Shmookums! My boyfriend! From now on, just call me Lois Lane.