It's Another Stress-Free day in Deep Inferno
Gppd mornign! It's moving day and I just wanted to tell you all that I am NOT STRESSED! I am typing this down on my knees on the floor because my desk has been cleared off for the movers (I'll take the computer over in my car later), but I AM NOT STRESSED!! I've been up since 4am running around ragged doing last minbute preparations, but IAM NO(T STRESSED!!! My back has gone out, I am lame and in pain, but I AM NOT STRESS!!!!

Oh, and get this: the City of Deep Inferno Dept. of Public Works is tearing up the damn street RIGHT IN FRONT OF MY HOUSE. The whole street is blocked off to traffic, and they've shut off the water for the enmtire neighborhood, BUT I AM NOT FUCKING STRESSED!!!!

No. This is not my problem, this street closure. The movers will deal with it. They are not only experienced professionals, they are BIG BURLY experienced professionals. They will plow their huge truck through the flimsy little road blocks, they will not be intimidated by the crew of scrawny civil servants with jkackhammers and backhoes. They will be here in ONE FUCKING HOUR (oh shit, I've got to hurry and take the dogs over to the vet where they'll be boarding for the day) and they WILL MOVE MY FUCKING STUFF.

No stress. Nope. I'ts a totally stress-free day here in teh land of second chances. Everything is going towork out just fine. Right? RIGHT???? Yeah, righht.

Bon voyage, we're off!!!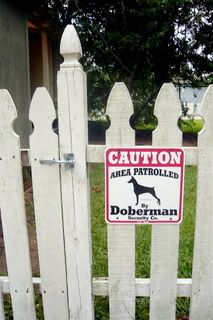 New sign on the new gate at the House Of No Stress